Slapshot Premier League

News Report
A Fourth Man's Tale
Author: Renard, 06/06/20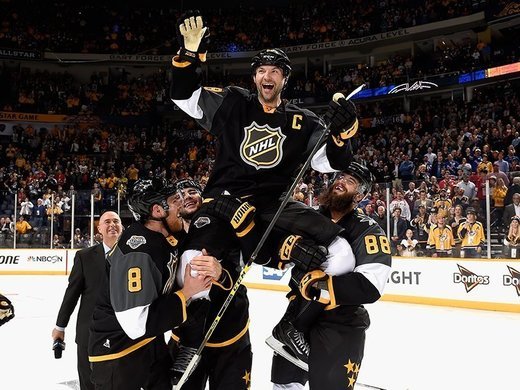 Here we are, third period starting. We are trailing by 5 in a high paced game which saw two future hall of famer being shut down by one man who would grow out to be one of my favorite teammates in the game.
CBT settles in.
We needed to patch things up and quick, as the boat was leaking. In a game that meant nothing for the regular season, and in a league that not a single player cared about, we rallied up. Going from 1-6 to 6-6 within 5 minutes was nothing unusual in Slapshot. In fact, it was the norm. Pinches, dumps, slumps and anger was the main core of the game back then. It still is to this day. In a season that saw Dyno Mike and Noob Weapons in dire need of a third before it even started, the two compadres won 28 games in a row, 15 minutes each. But as I said, they needed a third, and I was the only guy available, with barely 35 hours spent playing the game.
Nobody knows in SPL and for good reason. JSL was considered lower than what we consider ''the open division''. JSL still saw some great players prevail and become legends as we know them today. Meatsale (now known as meat, obviously), Kspyre, Galzzy, Noob Weapons and Dyno Mike, Scodz (he did spend some time in JSL, for whatever reason). Legends.
And then, there was me.
My most cherished Slapshot moment.
Spending the entirety of the season in JSL proved to be great. Good competition, a lot of game time and great company. Being a DC Slapper was a great deal, for a level 15 guy with wrists set in stone and the temper of a raccoon with rabies. It was a great deal also because I got to take my mind off things. Enjoy my time spent somewhere else than at work. That's normal, that's life, and I truly enjoyed every moment.
I wasn't supposed to start. Jak was our JSL backup back then and I truly pushed for him to join in. But we wouldn't break a winning streak, however weak I could be on the ice. My role was limited, calculated, and it paid off.
Fall from grace?
The next few seasons proved themselves to be a bit harder on the nerves. We could not replicate our previous success in JSL (and I am not criticizing my team here, as I became the captain in the after season). We lost some key elements, but that's on me. After winning 4 straight wins (I might be the ''record'' holder of the longest winning streak in slapshot comp history with 32-0) and going 0-4 in NSL (big oof, amiright), it was time to hang up my skates. I truly believed the end was near.
And came SPL with our placement season.
After spending some great time with Baltimore Burgers, playing with the likes of Walster and Occelloth (the fucking legend), and seeing Delvige take my 3rd spot (which I gave a bit reluctantly), questions arose. Would I enjoy playing with some more people that didn't really seem to acknowledge or talk about my minimal contribution to the game? Probably not, and I can't say I'm blaming the other veterans. There were a few things lacking in my game, and I could not pull it off. I just couldn't.
And then came the Quebec Baguettes.
These are elite, skillfull and extraordinary players. FSI, a guy I spent every but one season with, Occelloth (who's in discussion for the top 4 spot in the league right now) and Galzzy, a guy who grew to be a sharp shooter on the wing, were all what I needed to ''succeed''. But it came at a cost.
Reducing my game time, by A LOT.
This was my choice until it became the only choice. Reducing my game time also reduced my reaction and and my skills in general. There was no way around it. It was bound to happen. And here we are, 2 seasons later, with me not having touched a puck in competitive play in 3 months.
Because I was never meant to start, and that I never stopped fighting,
Because I truly loved the game and 90% of the people in here,
Because I set aside my ego and want to see my boys win it all,
I am proud of what I became along the way, and proud of what I accomplished in this game.
I have a f****g crown, who would've thought?
Is this farewell?
No,
I will remain a Quebec Baguette until the game dies.
Am I done playing?
Who knows, this is playoffs baby.
ps: Yup, it's the cringiest stuff I've written. And I write poetry. Go figure.