Slapshot Premier League

News Report
Blades and M1NN's SPL Season 4 Open Division Pre-Season Power Rankings
Author: Blades and M1NN, 09/08/20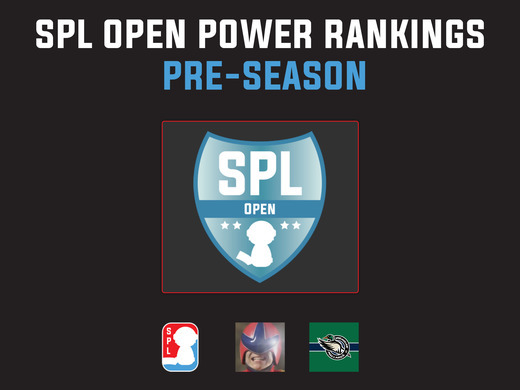 With just one day before the start of the new season the Open division is currently poised to bring in the excitement. Currently, the Open division sits at 14 teams - one more than last season. Of those 14 there are 9 teams that are returning from last season, but we will not see the return of either of Open division's season 3 champions - the Bolivia Bitcoin Bandits and Pennsylvania Ball-Peen Hammers. With the departure of last season's best there is potential for any team in the Open division to climb the standings and reach the coveted promotion spot into Intermediate play. Join myself and M1NN as we give our Preseason ranks to this season's Open Division teams!
1. Winnipeg Wrath (S3 Open: 8-4; 17 Points)
Pino
Maki Itoh
Ohg00d
Last season the Winnipeg Wrath saw their most successful season. Notoriously struggling as a franchise, the Winnipeg Wrath came into Season 3 hot and finished in 4th place - Exactly as M1NN had predicted in the beginning of the season. The primary roster of the Wrath has stayed the same, but have dropped Curtis in the offseason. Maki Itoh and Pino will surely have to prove themselves again this year. With both Maki and Pino totaling 50+ points and 30+ goals last season for the Wrath, the expectations are high. Like I had mentioned last year, this Wrath roster is still their best yet. If they continue to work together as a team do not be surprised to see the Wrath finishing at the top of this season's Open division. It is very likely to see this team in a promotional spot at the end of the season.
2. Canada Camels (S3 Open: 7-5; 14 Points)
PooBallz
Kuznetzoffzky
Endrick
Wreck2129
Zexter
The Canada Camels had an impressive Season 3 with notable victories over teams like the Buffalo Golden Spuds (5 - 4), Tokyo Ghoulz (6 - 5 (OT)) and the Minnesota Mild (9 - 2). While they have made no changes this offseason, their team is currently set up to improve on last year's point total. With the departure of some of the top teams from S3 Open, the Camels will easily make the trek towards the top of Open division this season. Endrick was on fire last year totaling 47 points in 11 games (30G, 17A, 64Shots, 13 Saves) followed by Wreck and PooBallz who had 39 and 37 points respectively. An above-.500 record is expected again from the Camels, but don't be surprised if you see them reaching the Promotional tournament at the end of the season.
3. Michigan Mallards (S3: 2-10; 5 Points)
Blades
Toker
Chicken Noodle Soup
The Phil
Blazerisbest
The Michigan Mallards are entering season 4 after a complete offseason overhaul. With the departure of 4 of last season's 5 players, Blades has found a new flock and has made improvements that has the potential to propel his team to the top of Open this season. The addition of Toker from last season's Drumbo Cows comes as a surprise to many. Having teetered on the line between Intermediate and Open division play for four seasons, Toker now finds himself in a comfortable position surrounded by a well-balanced group in Soup and Blades, and also with incoming gun-ho rookies like The Phil and Blazerisbest, this team could pose a serious threat for other Open teams no matter what lineup they bring to the ice.
4. Somalia Slappers (S3 Open: 4-8; 8 Points)
Yung Crisp
Siko
CopperTop
Kappa
Effxct
The Somalia Slappers, rebranded from the Detroit Danlgers in Season 3, are returning with some news faces this season. The Slappers have added Kappa and Effxct to their lineup during the offseason which surely has the capability to propel them into the upper half of teams this season. With Effxct and Copper having limited ice time in the past, the assumed starting pair of Kappa and Siko on the front-end will inevitably put every other team's defensive capabilities to the test. Don't forget though: Yung Crisp tied for 2nd place last season in saves with 38 (tied with Darnell of the Chimps). This team will easily surpass last season's point total and I expect them to finish well above the .500 mark.
5. Buffalo Golden Spuds (S3 Open: 7-5; 14 Points)
Wackypotatoguy
SimpMurray
Double Sourcow
This league-favorite trio is back for another season of Slapshot. The Buffalo Golden Spuds came out in Season 3 with their best season yet. With wins over teams like the New Jersey Minutemen (5 - 4), the Detroit Danglers (9 - 3), the Chico Chimps (5 - 4) and the Tokyo Ghoulz (6 - 2), the Spuds have truly come forward as a threat to other teams in the Open division. I believe that the Spuds, having not changed their roster since their birth into this league, have the ability to conquer a majority of the teams in Open division this season based on their chemistry alone. The Spuds play a very consistent game and each player is as dynamic as the next. With scoring, passing, and shot blocking abilities being quite prevalent in each of these three, they are not a team to underestimate heading into Season 4.
6. Orlando Otters (S3: Did not participate)
Iceman
Mace
Flaccid Lettuce
Speedchaser
Crispy Canadian
The Orlando Otters may be a new team to the league, but their roster is not. Iceman saw substantial playing time last season and has a great balance of offensive and defensive capabilities. Offseason additions like Flaccid Lettuce and Crispy Canadian will allow this team to become a serious contender. Mace, a rookie to the division, will be a great fit for the Otters on the backend and will allow them to see some successes over most teams in this division. This team can definitely surpass .500 this season but will have to put in some decent work if promotion is their goal.
7. New Jersey Minutemen (S3 Open: 4-8; 9 Points)
Johnboi
MNSOWinner
Owen Caraftis
After an incredible run in season 2's open division, the New Jersey Minutemen had a whirlwind of problems in season 3. The Minutemen had 10 players last season play at least 1 game - which ultimately caused a large struggle in their race to repeat their season 2 successes. However, this offseason may have been the refresher that the Minutemen needed. While it seemed as if Johnboi was packing his bags and heading to Intermediate play, Johnboi finds himself back in Jersey alongside offensive threat MNSOWinner. The Minutemen, if they can find a solid and comfortable starting lineup, could find themselves finishing among the top half of teams in the Open division.
8. Oklahoma Exotics (S3 Intermediate: 1-11; 2 Ponts)
Dolen
Big Herb
Marx
Curtis
Void
The Oklahoma Exotics are back in Open division for season 4. After a season 2 promotion into Intermediate play, the Exotics could not find balance in their roster in season 3 and ultimately faced relegation from IM after a disappointing 1-11 showing. Much like the Minutemen and their roster struggles, the Exotics had 7 skaters dress for them last season. With the retirement of all-star Booyah, Dolen is the only remaining Exotic from their amazing run in season 2. Marx played in 5 games last season but only totaled 4 points. Adding Void may propel them to some successes this season but it may prove difficult to reach promotion again. Dolen has what it takes to bring his team into the top half of Open division this season, but only if his auxiliary help can stay consistent. I expect a near .500 record for the Exotics this season.
9. Athens Alphas (S3 Open: 2-10; 4 Points)
Kiahn
Rudd
Qjared
Papa Shieldz
This season's Alphas team will surely ride on the back of qjared and Rudd. Although qjared played a limited role with the dominant Bitcoin Bandits last season and was ultimately let go, qjared is still a highly-skilled player capable of quarterbacking any two players. The return of Rudd could also allow this team to see varied successes in the division. Papa Shieldz has the defensive capabilities to allow this team to withstand an onslaught of offense, but I am unsure if it will be enough to propel this Omegas B-team to the top. They have what it takes to improve on last season's record but it is too early to tell if the chemistry with this team will allow them to finish above the .500 mark.
10. Tokyo Ghoulz (S3 Open: 4-8; 9 Points)
Fin
Ehlasteer
Zacmasta
KevinEleven
NDManzo1029
The Tokyo Ghoulz are back but this time without their owner Tetsu. Unfortunately, the Ghoulz roster has been plagued with inconsistencies. After some shifting of the rosters for the Ghoulz this offseason I find it difficult to see this team conquering many of the other teams. However, Tetsu's B-Team may see some changes in the coming weeks if things don't pan out. This 5-man roster also faces a tough week 1 schedule with the Camels and the Wrath being their first 2 matchups. The Ghoulz may look for changes early in hopes of finding the right fit.
11. Georgia Glizzy Gladiators (S3: Did not participate)
Forehead
Big Dookie
xN33DL3Sx
Yippi
LessThanDennis
The Georgia Glizzy Gladiators, another league favorite, have found their way into a roster-frenzy since their birth this offseason. While they attempt to secure their identity, the Gladiators will most likely find themselves battling it out among the bottom-half of teams in Open this season. Their captain, Forehead, has the offensive capability to keep his team alive in some scenarios this season - but will need strong backup if they are intending on competing on a regular basis. Look for this team to scratch out a win or two this season, but it will be difficult for them to reach the .500 mark.
12. Choco Coco (S3: Did not participate)
Blz
Papillonos
Maxime Paradis
ViNX
With participants from the former JSL, the Choco Coco's are a new team to the Open division this season. Although I have seen a name or two in public play over the offseason, it is too early to rank this team any higher than near the bottom. While their logo may be a new favorite, their play will have to be even better if they want to look to finish near the .500 mark this season.
13. Empire State Building (S3: Did not participate)
Slapshot Freak
IndianBurns4Jess
TaintOfGaming
TokeUpLilJakey
Although their team name is creative it is difficult for me to find any other major talking points with this team. A group of new faces and no background forces me to place this team at the bottom of the rankings. Over the first two weeks of the season we will find out if this team is capable of proving me wrong, but for now this building is still under construction.
14. Espoon Moukarit (S3: Did not participate)
Pastori
Pepar
Rumpschpanker
This newly formed Open division team unfortunately caps our list at 14. I believe this entire roster is composed of EU players and I find it hard to believe that they will have what it takes to overcome not only their competition, but their latency. While it is nice to have fresh faces in the league I am unsure if this team has what it takes to make their mark in open this season. Here's hoping they prove me wrong.
Best of luck to all teams this season!
Sincerely, Blades
_____
M1NN's Rankings
1. Winnipeg Wrath
The Wrath were able to finally turn their fortunes around last season, finishing 8-3-1 and in a solid 4th place in the Open Division standings. They are returning with the same starting lineup heading into Season 4 and I can't blame them. With more than a season's worth of experience with one another, the Wrath have built up a good chemistry and, in my eyes, have set themselves up as the top team in Open Division this season. If they can improve on their success from last season a promotion back to IM awaits.
2. Canada Camels
For a team full of SPL newcomers last season the Canada Camels proved to be quite the threat. While they were unable to take down any of the top teams in the division the Camels made quick work of the teams below them. Endrick was the most impressive of the bunch, racking up 30 goals and 17 assists in 11 games played. The Camels also seem to be following in the Wrath's footsteps as they have decided to make no roster changes so far this offseason. Similar to the Wrath I feel that the chemistry built between these players should be enough to make them strong contenders for a promotional spot this season.
3. Buffalo Golden Spuds
There seems to be a similar trend with my top 3 teams here. All 3 teams had a solid performance last season and all 3 teams are planning to keep their same roster heading into Season 4. The Spuds have been a quietly solid team ever since their first appearance back in Season 2. While never quite reaching the level of contender last season, the Spuds put together another solid campaign. One interesting thing about the Spuds is their lack of a sub. While this does hamper their depth, it also goes to show how much they can trust one another to always be available. With some of the best chemistry we have here in Open Division, maybe this season will finally be the one where the Spuds breakout of Open.
4. Michigan Mallards
While their inaugural season was not how Blades planned, the Michigan Mallards have made some interesting moves that lead me to put them in this number 4 spot. Gone is….everyone but Blades as he has brought a whole new cast of slappers. The biggest name of the new 4 has to be Toker, who has made a name for himself as a very solid defender. Chicken Noodle Soup was brought over from New Jersey, where they had a quiet 15 point season. Blades also added rookies Blazerisbest and The Phil to give the roster some depth. Overall I think this Michigan squad is much improved over the one that took the ice last season. My main question now is, will these improvements make Michigan a contender?
5. Somalia Slappers
With a new name and the pick ups of Effect and Kappa, the Danglers are looking to improve on their average rookie season. I always have a soft spot for teams who keep their roster together for multiple seasons, and that plus the additions of Effect and Kappa make this team quite the interesting one. The Slappers were definitely a defensive team last season, though I don't know if that was out of choice or necessity. The new additions should allow for them to branch out of their own zone more often, which could lead to some major success this season.
6. Oklahoma Exotics
To say the Exotics had a rough time in Intermediate last season would be an understatement. With only one win and losing their IM spot to a team made up of their former players, the Exotics have a lot to prove here in Season 4. This is going to prove especially difficult as Stone Wall award winner and former captain BooYAH decided to leave the team. However, even with BooYAH gone, the Exotics have plenty of talent. Dolen is still a talented player and he now finds himself surrounded by some interesting pieces. I personally don't see the Exotics finding their way back to IM this season, but I do think they are going to put up one hell of a fight
7. New Jersey Minutemen
Last season was a bit of a mess for the Minutemen. They ended the season with 10 different players playing at least one game for them. Because of this it seemed that New Jersey were never really able to find much of a rhythm and ended up struggling as a result. However, by the end of the season, the Minutemen found their core and now have a decent lineup heading into Season 4. Johnboi, MNSOWinner1, and Owen_Caraftis returned but no new players were picked up to play alongside them. This team now has an all-around solid lineup but are lacking in depth. Hopefully for them this lack of depth does not lead to a repeat of last season's roster madness.
8. Athens Alphas
The Omegas B-team struggled to do much of anything last season, only managing to get 2 wins. However, they coming into Season 4 with a very different lineup. With the Bitcoin Bandits earning their IM spot they had to shed some extra weight. This lead to Qjared and kiahn finding new homes on the Alphas. Qjared has been around SPL for a long time, so his veteran presence could prove key for a successful Alphas season. The Alphas also decided to swoop up Rudd before the roster freeze took hold. Rudd has struggled a bit in the higher divisions however that experience should make him a threat here in open. I don't think they are the best Open has to offer this season, but the Alphas are in a good spot to pull off some upsets and prove me wrong.
9. Orlando Otters
The Otters are a team made up of two rookies and a Slapshot veteran in Iceman. Iceman has always been a solid player who is a couple skills away from making that push to the next level. Admittedly, I don't know much about Mace or speedchaser. I think this team has some interesting potential, but like I said, I am going to need to see some improvement from Iceman before I can say this team has a shot.
10. Tokyo Ghoulz
To continue Tetsu's trend of not allowing any team of his to have the same name for 2 straight seasons the Ghosts have taken up the Ghoulz branding as they head into Season 4. Once again we see this team come into a season with almost a completely new roster. After a bit of shuffling the Ghoulz ended up with Fin, KevinEleven, and zacmasta as their final 3. While I am interested to see how zacmasta does in SPL, being backed up by a player I've never heard of and an EU player is going to make things difficult for him. Ghoul has put together B-teams who have shocked me before, so maybe this team will do the same.
11. Choco Coco
This team brings the return of some familiar faces from our NSL days. Parad1s and blz, two former JSL players, have decided to re-lace up the skates as another seemingly full french team joins the SPL ranks. Once again ranking them is an issue of experience, because while I do have high hopes for Parad1s and blz, I have to give the nod to more experienced players. Still, I am very interested to see what Coco can bring to the table this season.
12. Georgia Glizzy Gladiators
Despite not even playing a game yet, the Gladiators have become a very popular team amongst fellow SPL players. To be honest, I don't know who any of these players are and I can't say I buy into the hype quite yet. While the Gladiators have been doing a LOT of talking on the discord, actions speak louder than words. For their sake, let's hope they live up to their own hype
13. Empire State Building
Another team of players who I know nothing about! This team certainly has some...interesting usernames I guess? Though, to be honest, it is always great to see new faces join the league and I hope that the Empire State Building squad enjoys their time in Open this season! I'm also hoping they don't get steamrolled.
14. Espoon Moukarit
Last but not least is another team with players I have never seen before! Once again, I love to see the new faces but it's hard for me to put this team anywhere but the bottom for now. The only reason this team is below Empire State is because the name makes me think all these players are from Finland which would lead to some ROUGH matches ping-wise.