Slapshot Premier League

News Report
Dyno Mike's SPL Season 2 Pro Division Pre-Season Power Rankings
Author: Dyno Mike, 05/05/20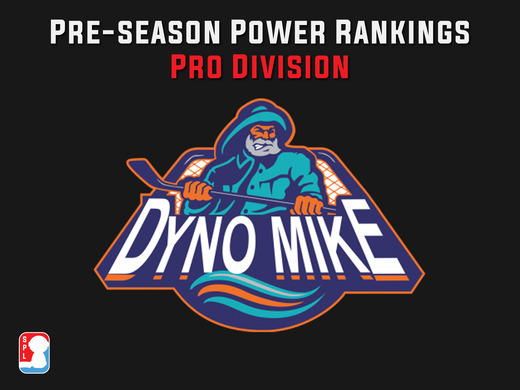 1: Miami Vice (Reno, Rodeo, meat, Seppy, clout)
Chef Reno has undoubtedly proven after stomping the Omelets last season defensively despite a ton of different shots and plays that he's a top 3 defensive third in the game. He added meat and Rodeo to the mix, two of the top 3 finishers in the game. Probably the most fun team to beat this season. The hype makes them number one.
Lineup prediction: Reno Rodeo meat
Pros: High scoring and strong defensively
Cons: Too much firepower, potentially new roles that will need to be understood
Record Last Season: 5th 7-7 (Express) Finals Loss
-----
2: Columbus Clappers (Panarin, Rath, Dream, Criz)
The 2x champions of the SPL lost meat this season, and got a bit of depth in the middle with Rath. I'm not sure how things will play out, but I do know that this is still arguably the best team in the league. If Dream is interested in playing and practicing, I could see another Finals win despite seasonal placement.
Lineup prediction: Panarin Rath Dream
Pros: Positionally sound, incredibly strong, high chemistry
Cons: Slight loss of chemistry, loss of a top shooter
Record Last Season: 2nd 10-4 Champions
-----
3: Quebec Baguettes (FSI, Galzzy, Occeloth, Renard, Scodz)
Wouldn't be hockey without a complete qc team. And here we are, they're very quick and good at knowing where each of them have to be. There's definitely a french connection going on here and I wouldn't be surprised to see a top 3 finish after last season's push at the very end. The addition of Scodz is just solid added depth.
Lineup prediction: FSI Galzzy Occeloth
Pros: Positionally and defensively sound, transition game is phenomenal
Cons: Too passive, lag at certain times, not enough Renard to score big OT goals
Record Last Season: 4th 8-6 (Most Improved Team) Quarter finals loss
-----
4: Denver Omelets (Balucha, Dyno Mike, Walster, Jak, Noob_Weapons)
My team! I really thought adding a shooter in Walster and an all around solid player in Jak would help with depth if we need lineup changes or to keep things fresh. I want to help make Walster a winning player again, and surround him hopefully with the sound positioning and decision making that led the Omelets to first place last season. Scodz banner will be raised to the rafters.
Lineup prediction: Walster Balucha Dyno
Pros: Veteran presence, we have a dev for slaphax, walster goes to college
Cons: walster won't study enough, too much lag, an idot to replace our scodz idot
Record Last Season: 1st 11-3 Semis loss
-----
5: Ireland Pepe Tactics (Timmy, Dave, Kyler, Panther)
I memed recently saying kyler was a top 5 player in the game, but to be honest - he's slowly becoming one of the hardest players to play against. He always seems to have the puck and his decision making just keeps getting better and better. Dave, Panther and Timmy are no slouches either, I expect this team to really turn some heads after their first place finish in open last season.
Lineup prediction: Timmy Dave kyler
Pros: A winning recipe, a really good mix of mechanics and defense
Cons: Not enough pro level experience, too much puck holding.
Record Last Season: 1st 8-1 (Open division)
-----
6: Carolina Smokers (Kyle, CockyWalrus, Kspyre)
Losing Rodeo here I feel is huge for this team. I'm not sure how they're going to play without him. Maybe they'll surprise me and pick someone up, but as of now it's certainly not as frightening as it was last season when they beat the Clappers in the regular season convincingly. Maybe Kyle shakes off the rust and takes them back to the top. As for now, 6th is my spot.
Lineup prediction: Kyle Walrus Krispy
Pros: Huge improvements from Kspyre and Walrus as players overall
Cons: No Rodeo, replacement is more defensive minded
Record Last Season: 3rd 10-4 Semis loss (the Rodeo curse)
-----
7: Chicago Sail (Yuri, Rapier, Spleen, Vorq)
They keep it simple, and play super defensive hockey without the puck. If they change it up, I could see them possibly finishing higher. The talent is there, it's the playstyle that needs adjustment after a 6th place finish and a playoff no-show.
Lineup prediction: Yuri Spleen Vorq
Pros: Well, they certainly do avoid getting smashed and pull out some crazy wins
Cons: Too much sit and watch, when it matters they crumble
Record Last Season: 6th 7-7 Quarter finals loss
-----
8: Portland Platypuses (TyrantK, duker, domikus, lazytrout, M1nn)
This is the best spot to be placed in, because in my eyes they now know they can absolutely prove people and myself wrong and the expectations aren't heavy. There's pure talent here - and some budding superstars like Tyrant. I just need to see it at the next level. Prove me wrong guys.
Lineup prediction: Tyrant Dom Duker
Pros: Were the favorite last season in open division, skill is there
Cons: Lack of experience, high level of competition
Record Last Season: 2nd 8-1 (Open division)
-----
Standings with record point predictions (112 matches):
1: VICE 11-2-1 (23pts)
2: CLAPPERS 11-3-0 (22pts)
3: BAGUETTES 9-4-1 (19pts)
4: OMELETS 9-5-0 (18pts)
5: PEPE TACTICS 7-7-0 (14pts)
6: SMOKERS 4-10-0 (8pts)
7: SAIL 3-10-1 (7pts)
8: PLATYPUSES 2-11-1 (5pts)
-----
Other Predictions:
Most goals: meat
Most assists: Reno
Most saves: Yuri
Most improved team: Pepe Tactics
Most points: meat
Playoff Champions: Clappers