Slapshot Premier League

News Report
EpicMan67's Pro & IM Preseason Preview
Author: EpicMan67, 05/05/20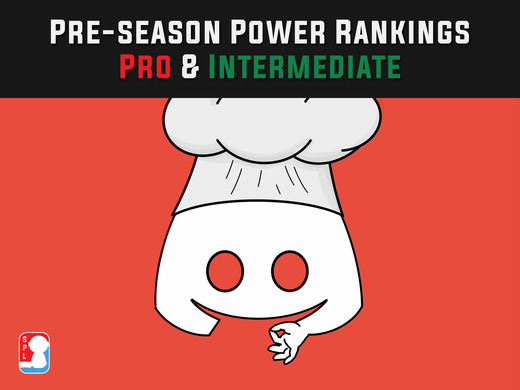 1. Miami Vice
The Miami Vice announcement brought lots of questions to the current pro division. Who is the best? In my opinion, it's the Vice. Meatsale and Rodeo come over to join Reno on the former express, putting together a roster that should win championships. If this team doesn't win, I would see it as a failure from them. Two of the most prolific scorers in Slapshot paired with a solid defender and scorer in his own right. With recent performances in tournaments and scrims showing well for the Vice, I'm expecting incredible numbers coming out of these three this season. Meatsale and Reno look to break Rodeo's Semi-finals curse. If anyone can get him over that hump, it's these two.
2. Columbus Clappers
There isn't a big gap between one and two, despite me putting Clappers second, that isn't to say they can't be number one after week 1. This team throws it all the way back to NSL S1 when Rath stepped in for FlauntyPorpoise to save the day. Panarin is still regarded as one of the best current players, and when he's next to Dream, they make goals happen. Rath is coming off some of his best performances these past two seasons in the SPL, and if anyone can make him shine bright, it's the duo from the Clappers. Look for this team to fight hard this season, they lost Meat, and they're gonna want to prove they are still the best to play the game.
3. Quebec Baguettes
Still not a big fan of France, but they put up performances day after day. This team is consistent, they're clean, they rarely make huge mistakes. They're looking to improve off their performance last season by adding Scodzz to the roster. He'll help shore up some 3rd player uncertainty that was generated over the offseason, and provide a defensive edge that the Baguettes have always shown. If the Baguettes can snuff out the early season troubles that they had last season from repeating themselves, then they'll be fighting for the top spot in the league.
4. Denver Omelets
The most insufferable team in slapshot? The Omelets added walster and jak over the offseason to shore up an already strong offense of DynoMike. Walster had a hard time last season putting things together, but with a strong roster to support him, perhaps he can bring it back to the old days of scoring. While they might have topped the league in the regular season, something they'll hope to repeat again, they struggled in the playoffs. If they can keep up their regular season performances and find that mojo in playoffs, expect to see this team fighting tooth-and-nail amongst the best. That being said I would never want to be in voice comms with this team.
5. Carolina Smokers
This is a team I WANT to do better than 5th. I love the Smokers boys, but they took a hard hit in the offseason losing Rodeo. They're returning to old ways, bringing back the old man from the nursing home and putting him in the net. Kspyre and Walrus have always been a strong duo, if they can get back to their groove quickly with Kyle, they could climb the rankings. Kyle always locks it down on defense and provides strong passes from the defensive end. I want this team to prove my rankings wrong and pop off, but without any knowledge of their scrim performances, I can't rank them higher for the time.
6. Portland Platypuses
I've personally played the Platypuses in scrims about 5 times now, and each time is holding a different result. With roster uncertainty plaguing the team, their performances have been shaky. They have the most potential out of these bottom teams. They play aggressive and pass well, working to control the puck. Tyrant and Duker put together goals quickly if you're not able to lock them down. This team has the tools to be better than 6th. The more reps this team gets under the belt the stronger I see them looking. This isn't a team to be underestimated.
7. Chicago Sail
The most boring team in all of Slapshot. They are by the books defensive end stackers. The 1-3-1 of Slapshot. They win games by getting advantages then playing hard defense until the clock wheezes it's last breath. I want more out of this team. I want more offense, more highlight plays, more fun. This team seems like it's wound super tight, and I'd love to see some creativity and free flowing gameplay from them. That being said, they still win games. If they can win games, despite how fun they are, they'll do better than 7th, but with all the offensive talent in the league right now, I don't know if they can goalie their way past 7th.
8. Ireland Pepe Tactics
Timmy's Tactics. A team with the playstyle of cracked 14 year olds. Timmy has continued to improve since his placement season debut. He is truly a player who can pop off in a game. Kyler might have crazy handles, but he gives the puck away like it's lemonade on a hot Texas day. Perhaps laggy Panther can shore up some of their possession issues and create a real threat on offense whilst preventing holes from opening on defense. There is a lot of uncertainty right now in this roster. The thing holding me back from ranking them higher is a lack of definition in their playstyle. How do they go about playing the game… Most teams I can answer that for you, but this team I cannot. I fear they'll get overwhelmed by the bigger fish in the league. There is ALWAYS a bigger fish.
Intermediate Division
1. Boston Barrage
The biggest grinders in SPL IM division. This team has been scrimming the most out of the IM teams so far, and if you've been there, the results are showing. They can put together passes well, and score with the best of them. This team focuses heavily on controlling the puck and allowing individual skill to create openings for teamplay. Captained by Derek, a player who on his day can light up the scoreboard, the Barrage are looking to start out the season on a good note. Donut has the ability to score on any play, which helps to open up close games quickly. The newcomer to the team, EpicMan67, brings a more controlled passing playstyle to the team. He likes to slow things down and look for gaps in the opponents to pass to. Look for this team to start off on a hot streak, or build up to one quickly.
2. Midwest Shrimp Riders
Another team that could very well make a claim for the number 1 spot. This team plays a very different style to the previously mentioned Barrage. Featuring a much more defensive approach, they like to look for outlet passes down the boards to their affluent scorer in EW. Their games tend to be low scoring for both sides, something to be said about their skill on defense. Do I hate the way they play because of that, yeah, but they're still deserving of being called a top IM team. If teams can figure out how to crack their defense and open up a game, they might beat the Shrimp Riders… but they're not top 2 for nothing. Good luck opening holes in their play, they don't come easy.
3. Drumbo Cows
Not far behind the Shrimp Riders sit the Cows. A team not too dissimilar to the Riders, they feature a controlling, long passing playstyle. Again, I hate it, but if it works, who am I to complain. Lemonbond has popped off when I've personally played against him. The Cows success relies on him to play well. I wouldn't look at Jaycer and Oscar to hard carry a game, not that they can't or won't, but Lemon tends to put the team on his back in their wins. I'd love to see more pop-off performances from the supporting cast of the Cows, something I feel they'll need if they want to crack top 2 of the Intermediate Division. I'm not counting them out, but they'll need to be consistent if they want it.
4. Honolulu Hootenannys
As a former Hootenanny myself, I know what this team is capable of. Last season we saw a fall from what I believe they are capable of. This season they'll look to fight back against the expectations. If Fatleft and Luigi can get back into their scoring form and put up numbers, this team can be a force to be reckoned with. On their best days they know how to put together passes and score goals consistently. On other days they struggle to get on the board. I'd love to see a return to glory for the Henley Hooters boys. Show us what ya got.
5. Bangor Yetis
The bfy boys. This team has the tools to be one of the best in the division. Kacktus, or Kracktus, whichever you like to call him, seems to have an affinity for putting the puck in the net no matter how hard it may seem. Working together with the other two members of bfy, systo and shudder, this team might be able to pull off something great and reach those top spots. Systo and Shudder are great on defense, controlling the zone well and giving passes up to Kacktus. If they can stick to their game plan and get the offense rolling I have confidence this team will be able to close out games efficiently. The key word there is IF. This team can do great things if they take the opportunities.
6. Detroit Mighty Clucks
Who? Never actually heard of the Clucks. Are they the Omelets farm team? The clucks have pieces to be a good team. Reek and Rick know how to play, and they work very well together. I want to see them really flourish this season. If both of them get the ball rolling early they could fuel themselves to be some of the best in the Intermediate Division. Backed by b*tt, this team needs to find its footing fast in this division, or they could get into a hole early. If Reek and Rick can work together and start putting up numbers, there is no reason this team can't be in the running.
7. Winnipeg Wrath
I know absolutely nothing about the Wrath other than their abysmal performance in season 1 of open. If they want to prove they belong in IM, they're gonna have to put in the time. They have a lot to prove about themselves coming into this season. I hope they don't get plagued by the typical open division roster swap drama in the middle of the season. If this team can find their playstyle and work hard, I can see them finishing middle of the pack and continuing to improve next season. They just have to want it, and they have to put in the time to do it. My advice to them… play better teams in scrims. Get beat, learn from those games. Learn how you want to play, and where to fix the flaws in your games. Prove this ranking wrong.