Slapshot Premier League

News Report
EpicMan67's Pro & IM Week 1 Power Rankings
Author: EpicMan67, 05/12/20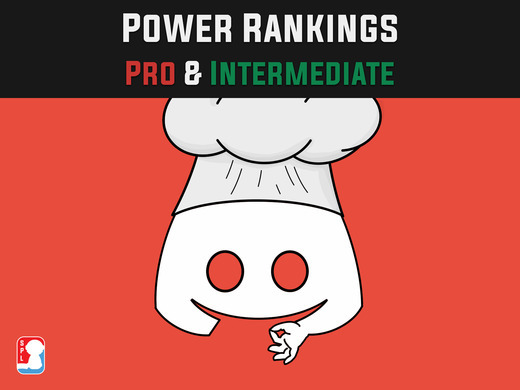 Pro Division
1. Columbus Clappers (+1)
The Clappers make a triumphant return to their #1 spot after a perfect 3-0 week. Everyone expected a bloodbath in the Clappers vs. Vice game, but what we got was a nail biting OT win. The Clappers were able to shut down the Vice's allstar offense all game long. They put the puck in when it mattered most too. Their other wins were against some of the weaker teams right now in the division; however, they were very convincing wins nonetheless. The Clappers go head-to-head against our number 2 this week on Sunday, so expect to see a clear number one next week.
2. Quebec Baguettes (+1)
The Baguettes were close to coming #1 this week overall. Two things stopped me from doing that. The first was their game against the Omelets. While I think the Omelets are a strong team, I think they are rather weak defensively. I believe the Baguettes should have had a better game against them. The second reason is their game against the Vice. Yes the Baguettes beat the vice, but it's more about how they beat them. They scored 5 goals in just under a minute to take the lead 6-5 in the second period. While an impressive statline, I believe this lied much more on errors of the Vice than on strengths of the Baguettes. The Baguettes have impressed lately. They continue to be a top team, and their game against the Clappers this week could see them rising to the top.
3. Miami Vice (-2)
Oh man. The Miami Vice had a difficult week. They faced their top two rivals for the cup this season, and sorry to say for Vice fans but it didn't go their way. A tough OT game against the Clappers saw them struggling to put goals in the net (i'm looking at you Meat). They controlled possession a majority of the game, but still couldn't finish on opportunities. Their game vs the Baguettes was a different story. Vice held a 5-1 lead going into the 2nd, and lost the game 7-6. It seems as if they just couldn't hold onto their lead. Whether that be giving away the puck or maybe overconfidence I can't say for sure, but I do know that if the Vice want to win the championship this year, games like these have to be converted. The Vice should have an easy time this week, so let's see that talent show up big.
4. Chicago Sail (+3)
Everyone knows I do not like the sail. I hate their playstyle. The only one on their team who I'm willing to have a conversation with is Spleen; however, they get wins when it matters. Their win against the Omelets is the only thing holding them in this spot. This team has to pick up at least two wins this week for them to stay in this spot. If they can upset the Clappers they might even pick up three, but it's hard to see that happening. Spleen is cracked, but is he cracked enough?
5. Denver Omelets (-1)
This team is really weird to me. On paper they have strong offense. Both walster and dyno are people who somehow just put the puck in the net even if they aren't known for their moves. Their week left me feeling pretty underwhelmed. A loss against the sail where they just couldn't get anything going, then a much better performance against the Baguettes, and a solid performance against the Pepe Tactics. If not for that loss against the Sail maybe this team sits up higher. I want to see them start to build more chemistry quickly. As it stands they look pretty thrown together. Not a lot of strong passing, too many W key plays. Omelets have a tough week this week, playing the Clappers and the Vice is a tough task for anyone. Lets see if they have what it takes to be at the top.
6. Ireland Pepe Tactics (+2)
This team was pretty surprising coming into last week. I had only played them once, right before they played against the Smokers, and they seemed like they had a solid team going. I can't say I'm exactly surprised with a 1-2 week, they're new to the level of competition that is being thrown their way. Their game against the Smokers showed them perform well, but as we saw the Smokers play I put less credit on the Tactics. Two disappointing defeats against the Sail and Omelets stopped them in their tracks. I'd equate this team to a similar style as the Sail, but with a little more skill and offense. Kyler still tries to do too much on the puck, something we saw a lot of this week. If they can smooth out the rough edges maybe this team can start to climb, but this week won't be easy.
7. Portland Platypuses (-1)
The Platypuses had a rough start to the season. An 8-20 stomp by the Vice hurt to watch; however, a last minute sub with no warm up definitely didn't show the full potential of this team. They had a solid showing against both the Smokers and the Clappers. Despite the scoreline of their Clappers game, they performed solid overall. It seems like they struggle for a few minutes at a time, but then sort things out and get back to playing well. I'd love to see them prevent those multi-goal minutes they keep getting against them, and start being a bit more consistent throughout the 15 minutes. This week might be one of the easiest they'll get in the Pro Division. They'll have to make it count.
8. Carolina Smokers (-3)
I don't have a lot of words for this team. Mostly I'm just surprised. We saw them revert back to their former roster, and man did it not look good. Kspyre and Kyle felt like they were all over each other, Walrus feels like he is playing a separate game, and the team overall just feels like they lack an identity. Perhaps Kspyre playing mostly defense last year is an awkward transition with Kyle coming back into that role, but I'd love to see more of the offensive potential from him when we last saw this roster in the placement season. Overall this team needs to have a quick turn-around, or they'll get run over fast.
Intermediate Division
1. Boston Barrage (-)
The top of IM is just as close as Pro. Two teams stand above the rest, and sitting atop those two is the Barrage. Overall their games were clean. They put away their competition fairly safely, not leaving much room for comebacks, especially if they knock them out 11-1 in the first 4 minutes of a mercy rule game. Donut and Derek both stepped up and put their offensive talents on display. EpicMan funnelled passes into them while he held the opponent to a few goals. This team has both the most goals scored, and the least goals scored against. But they're not without challenge.
2. Midwest Shrimp Riders (-)
Introducing the challengers. This team is just barely ranked second in my mind. The only thing holding them back is their two OT wins. The Riders struggled to gain momentum against a sputtering Hoots roster, and barely closed out a win against a strong Yetis' lineup. MDub, Mr. Gamewinner, is putting the team on his back right now. They're winning the games they need to but only just. If this team can find more consistent quality performances, specifically from all three members on the ice, they won't have any issues maintaining their top spot. Next weeks #1 will be determined by the Shrimp Riders vs Barrage game. Lets see the best the Riders have to offer.
3. Drumbo Cows (-)
This team struggled in week one. Not unlike the rest of the league, they sit in the middle of the pack, but many, including myself, see them as a contender for the top. They lacked a strong identity in week one. Struggling to get going on offense, and not really gaining any control over the puck. According to Lemon they're working on a new way to play their game. This could indicate a change for the better for the Cows. They have the pieces there to put up strong performances, but struggled against the top two of the division. If they want to be considered as the best in IM they'll need to have a clean week against the bottom teams. Show us what this new Drumbo can do.
4. Bangor Yetis (+1)
The Yetis had a solid first week of the IM division, but a huge loss of their star offensive player Kacktus saw them sputter out against the Cows. It's hard to say how this team will do in the coming weeks. On one hand they have the backbone to be a great team. High chemistry and a good attitude can get you far, but without that X-factor that Kacktus provided, they'll need someone else to step up and put the puck away. This next week will be telling of what is to come for the Yetis. If they can find a way to minimize their loss of Kacktus they could be fighting for the top spots.
5. Detroit Mighty Clucks (+1)
Still not sure who the Clucks are… but I'm not sure they do either. They closed out a close win against the Wrath just after getting mercy-ruled in the 1st period by the Barrage. A team that on paper has the players to get it done just isn't. While they sit atop the bottom, it's hard to say they'll go much past here. Since they only played two games it's hard to judge how they'll play this week, but they have a hard 4-game week ahead of them. Playing the top half of the division + the hoots could be tough. A 2-2 week at least would be a huge step in the right direction.
6. Winnipeg Wrath (+1)
The Wrath started out the season with a stunner of a game. A stomp over the Hoots put an expectation on them that I'm not sure they were ready to handle. Everyone was thinking that the Wrath might have what it takes to be a strong team in IM, but those thoughts ended fast. An OTL against the Clucks stopped the Wrath hype-train in its tracks, but a 2-game week leaves a lot for the imagination. If they can perform how they did against the Hoots, they could climb the standings behind outstanding performances from Ohgood. I think we all want to see that Wrath show up again.
7. Honolulu Hootenannys (-3)
My former team. A team that has the pieces, but can't seem to put them in the right place to make it successful. I know that both Luigi and Fatleft can score, but since last season we've seen a major decline in performances from them. A drought of scoring makes it hard to win games that maybe you should be winning. They're struggling to get things going, but that isn't to say they can't. It's the first week in the season, and the Hoots can only go up. A 2-game week 2 could see them make the necessary turn around to get back on track.