Slapshot Premier League

News Report
Intermediate Power Rankings - Week 2 - Renard's Report
Author: Renard, 05/12/20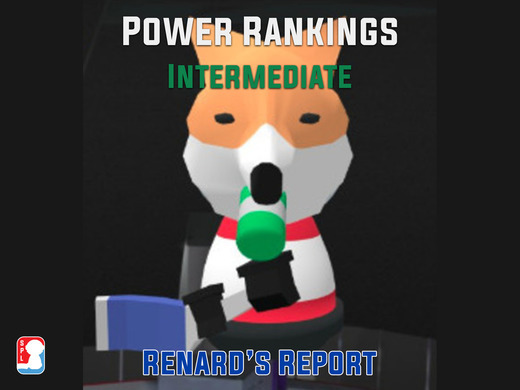 1. Midwest Shrimp Riders (3-0-0)
The only reason they are not going 2nd place in the power rankings this week is their outrageous dominance against the Drumbo Cows. A really close win in OT against the Hootenannys and a 6-5 win in OT against the Yetis (before Kacktus' departure) is something we need to take into consideration before making any judgmental calls. However, they will need to step it up a notch, the Boston Barrage being one win away from the 1st spot in the standings (both teams face each other this week). Honorable mention: Mdub having 15 points out of 21 goals scored for his team.
2. Boston Barrage (3-0-0)
Donut and Derek proved they are a merciless duo on the ice during last week's performance. Earning themselves three very important wins will provide them with a much-needed moment to breathe, as they only need to beat the Shrimp Riders one time to climb up the ladder and be King in the division. As we speak, things could change really quickly. A rather timid offensive performance by their third man, Flaunty, isn't too much to worry about, as his primary role is to stop pucks.
Honorable mentions: Donut (11-7) and Derek (9-8) are fighting for the MVP award
3. Drumbo Cows (1-2-0)
This team needs to pick it up. Their two losses were against direct contenders for promotion and they didn't have a good time either against the Bangor Yetis. There is plenty of talent on this roster, they just need to pick up the pieces and look ahead, not behind.
Honorable mention: 4 out of 5 players have already played this season for them. Take notes, teams.
4. Bangor Yetis (1-1-1)
They would be third place if not for the departure of Kacktus. He was proving continuously that he had what it took to play on a high level and the Pepe Tactics chose to trust him in the Pro division. Will the BFY crew find a solution, or will they fall behind in the standings? Right now, nothing's so sure, but their great spirit might prevent a crash from happening.
Honorable mention: They are here to play and have fun, getting wins along the way.
5. Detroit Mighty Clucks (1-1-0)
Nothing too convincing for the Mighty Clucks. A hard-earned win against the Winnipeg Wrath in OT, a game that they ''should'' have won easily, and a terrible loss against the Boston Barrage (11-1), sealed the deal for this power ranking. B*tt and Reek being the only guys who got points in two games, this team will need much more than a simple fix.
Dishonorable mention: Where was Rick?
6. Winnipeg Wrath 1-0-1)
Surprise surprise! We heard plenty of things about this crew. They were thought to not be able to play the game and score some goals, they were expected to receive blowouts in each of their two first games. And yet, they just beat the most recent relegated team in the Hootenannys and earning an OT loss against the Mighty Clucks. Was this just a fluke, or do we have on our hands a surprising group capable of winning their fair share of wins this season? You never know…
Honorable mention: Ohgood (8-6) with his 14 points leads the way for his team.
7. Honolulu Hootenannys (0-4-0)
I was not expecting something this bad for the boys. I am out of words to justify or explain this debacle. Nevertheless, they are still capable of turning things around. But they need to do it now, otherwise, they are done.
No need to mention anything.
1st star: Donut
2nd star: Derek
3rd star: Mdub