Slapshot Premier League

News Report
Intermediate Power Rankings - Week 3 - Renard's Report
Author: Renard, 05/19/20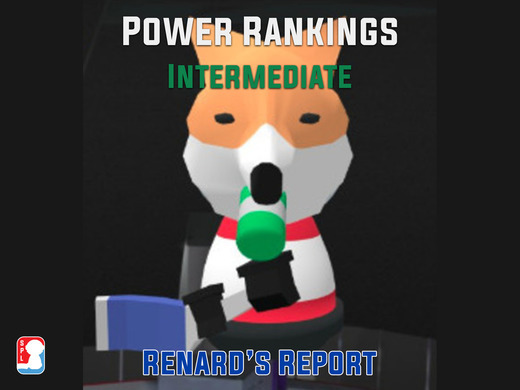 1. Boston Barrage (7-0-0)
Great week from them, having the longest winning streak still active in SPL to date (the record of 8 happened last season with the Denver Omelets). Nonetheless, questions still remain. Their 5-4 win against the Midwest Shrimp Riders was a close call. Can they erase any remaining doubt about their reign? We know Donut and Derek are great friends, can the power of friendship win it all?
2. Midwest Shrimp Riders (5-1-0)
They be grindin'. Albeit this horrible grammatical error, one thing remains. They lost against the Boston Barrage, a game they had until the very end of the third period. Was it a fluke? One thing is for sure, they are working actively on getting better, as they spent quality time on slapshot lately polishing their play.
3. Drumbo Cows (3-2-1)
They needed at least two wins and they did just that. However, losing in OT against the worst seeded team in the standings is a big no no. Can they recover just in time for a top 2 spot? They will need to beat the top dogs in the division. Now.
4. Bangor Yetis (3-3-1)
Losing Kacktus sure is a big deal. Nonetheless, Rudd stepped on the plate and assured his ''boys'' all would be fine. They might not be very far into the standings, but they've put their heart out on the ice all season long. Some nifty plays here and there, Igor casting their games once in a while, and you have here a team that's showing good promise and clear pleasure in playing the game.
5. Detroit Mighty Clucks (2-3-1)
I could copy paste last week's paragraph in here and it'd be more of the same. Reek isn't a one man team and I'd love to see more people stepping up. Rick has been ghost-like since the beginning of the season. Offense must be driven by more people, otherwise, they might see themselves fall behind in the standings.
6. Winnipeg Wrath 1-4-1)
They are still putting up numbers, but the Hoots are heating up just in time. Will they be able to maintain the pace? Nothing's so sure, as this week felt more like a slap in the face (0-3-0). Still a fun team to watch, some more unknown players lighting it up. The Wrath can be contained, but how long?
7. Honolulu Hootenannys (1-4-1)
Heat it up baby. Heat it baby. Can they come back from this? Maybe not. But can they regain a bit of momentum and 'morale' before the end of this season's finale? Absolutely. We see a bit of genius here and there but once again, confidence is lacking and lag issues are still a plague for the veterans. Let's wish them the best.
1st star: Friendship. Loyalty. Teams and players who stick for each other, don't try to deceive each other and provide useful insight in their game. Because being a good person goes far beyond any IM chips possible.