Slapshot Premier League

News Report
Open Division 3 Stars of The Week – Week 1
Author: LemonBond, Contributors: MDub & domikus, 02/25/20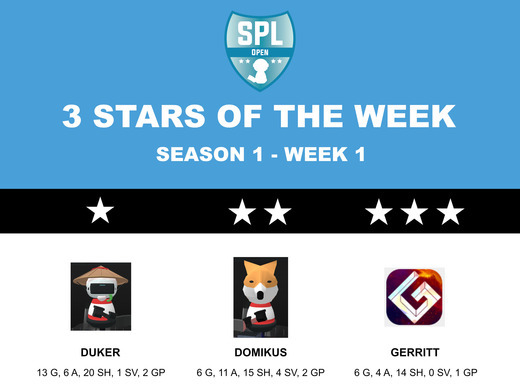 1st Star: Duker (Columbus Clompers)
With an impressive 13 goals and 19 points in two games this week, Duker earns himself 1st star of week 1.
13 G, 6 A, 20 SH, 1 SV, 2 GP



2nd Star: domikus (Columbus Clompers)

His 6 goals, 17 points, and 4 saves this week earn domikus 2nd star of week 1.

6 G, 11 A, 15 SH, 4 SV, 2 GP



3rd Star: Gerritt (Nashville Knights)
Gerrit only played in one game this week but put up an impressive 10-point performance in a 10-1 win over the Wrath. Scoring 6 goals and assisting on the other 4 goals scored by his team earns Gerritt the 3rd star of week 1.
6 G, 4 A, 14 SH, 0 SV, 1 GP