Slapshot Premier League

News Report
Open Division Power Rankings - Week 1
Author: LemonBond & domikus, 02/21/20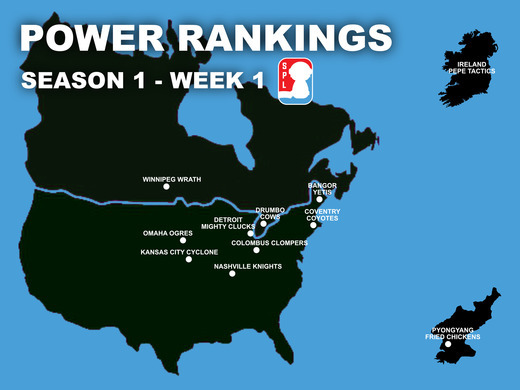 1. Pyongyang Fried Chickens
Reason: The Fried Chickens have some of the best depth in the Open Division, most of these guys have played with each other before. Just look at Shiba and Johnny, both players played for Denver last season and they had a combined 155 points. Throw Donut in this mix and this team has some insane playmaking ability. Should be a very exciting team to watch.
2. Nashville Knights
Reason: This was a very hard choice between the Knights and the Cyclone for this spot. The reason we went with the Knights is due to the fact they picked up Gerritt again as he returns. AIA is a lot more skilled than people think. This team should be a fun one to watch during the season.
3. Kansas City Cyclone
Reason: Brady, Derek, Monki, this team is very good on paper. It's just down to see how they will perform over the course of the season. If everything goes to plan, this team has a really good chance to finish with a promotion spot, however, it will be a dogfight between them and the Clompers. This team should have no problem with that starting three, however it will be interesting to see how the bench does if they're called into action due to the lack of experience.
4. Columbus Clompers
Reason: The Clompers are another team that looks very good on paper. They don't have quite as much competitive experience as a team such as Pyongyang. However they have a high enough skill level where if they are able to find chemistry they will be a team to keep an eye on and could challenge for a top 2 spot.
5. Detroit Mighty Clucks
Reason: Reek, Rick and Butt. All great players on this team, however the bench is mostly full of people with little to no experience. However they should do just fine this season, and if the starting three always show up they might have a chance to sneak into the top four.
6. Drumbo Cows
Reason: This roster is nearly the same Cows team as last season, however they showed improvement over the second half of last season. LemonBond is in the conversation for the best controller player, A Random Player has significantly improved, and with a new sleeper pickup in MDub, this team will be fun to watch. It should be exciting seeing how they play this season.
7. Bangor Yetis
Reason: This was close between them and the Tactics, but I'm trusting the Yetis with this one, having just one player with past experience in Tetsu The Ghoul, this team could have trouble out of the gates, it all depends how the chemistry shapes up. However with a new addition in Roberti9 and the skill they possess I have no doubt that this team will do just fine.
8. Ireland Pepe Tactics
Reason: This will be interesting to say the least, they picked up Kekko, GoYeetYourself, Dave, and Kevino. This team is basically a whole new one and no longer resembles the Pepe Tactics we all know and love, since this is a new group of players, chemistry may not be the best, however depending on how things shape up, this team could be a surprise and a possible underdog.
9. Omaha Ogres
Reason: HighFlyer is a new addition to this team, and I believe he will play a crucial role in this team's success. However, this team is basically the same except for Void and HighFlyer. Unless they can improve as a team, the Ogres could find themselves near the bottom.
10. Winnipeg Wrath
Reason: This team is full of new faces, and it will be crucial for them to gain some traction early in the season, other than that, I don't have much to add.
11. Coventry Coyotes
Reason: I've never heard of any of these guys nor have I played against any of them, so it's kind of hard for me to rank them accordingly, this team may be able to pull something off and possibly go on a run. Don't underestimate them, even if they're new.