Slapshot Premier League

News Report
Open Division Power Rankings - Week 5
Author: LemonBond, 03/18/20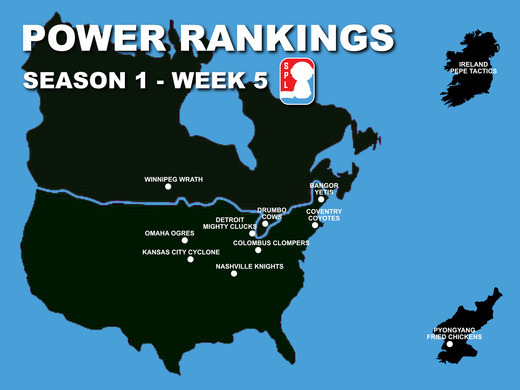 1. Ireland Pepe Tactics (+2)

Since their loss in game one of the season the Tactics have not looked back. Piling up an impressive 6 game win streak (including wins over the Clompers and Cyclone), the Tactics look poised to claim a Pro Division spot, putting them in the top spot of our week 5 rankings.
2. Columbus Clompers (-1)
The Clompers fall from 1st place to 2nd this week as they were unable to stop the surging Pepe Tactics. However a big win versus the Fried Chickens shows this team still has their eyes on a Pro Division spot.
3. Kansas City Cyclone (-1)
The KC Cyclone drop a spot this week due to the rise of the Pepe Tactics. They still remain in a good position to claim a promotion to Pro Divisions being just one win behind the Clompers (also having a game at hand over the Clompers). With their recent wins over the Fried Chickens and Mighty Clucks this is a team to keep an eye on.
4. Pyongyang Fried Chickens (+1)
The Fried Chickens have not quite lived up to their expectations so far in the first Open Division season. They move up a spot this week, keeping themselves in a good position with lots of Slapshot left to be played this season. However if they want to earn a promotion to Pro Division this team needs to show more dominance than what we have seen so far.
5. Detroit Mighty Clucks (+2)
The Mighty Clucks move up a couple of spots this week in light of their last couple of wins. They have been bested by some other higher ranked teams (the Cyclone and the Fried Chickens), but this team can't be taken lightly.
6. Coventry Coyotes (+3)
The Coyotes have been quite the surprise this season coming in as a widely unknown team. With wins over the Yetis and Cows they move up 3 spots, showing they are a team that cannot be slept on.
7. Drumbo Cows (+1)
After a slow start to the season (with two of their first five games being forfeited by their opponents) and a loss to the underdog Coyotes, the Cows have found themselves in a tough position. However their recent dominant win over the Yetis shows this team may be on the rise… but only time will tell.
8. Bangor Yetis (-4)
With a rough past few games the Yetis find themselves down four spots from the previous ranking. Now with the recent departure of Tetsu the Ghoul the Yetis find themselves in a perilous position. The real question now is can they pull themselves up and out of this rut they now find themselves in?
9. Nashville Knights (-3)
The Knights are another team like the Fried Chickens who have not lived up to expectations so far this season. Their continued struggles this season drop them three spots.
10. Omaha Ogres (0)
The Ogres remain in 10th place as they continue to search for their first win.
11. Winnipeg Wrath (0)
The Wrath find themselves in the same boat as the Ogres, trying to come up with their first win, and thus remain in last place.