Slapshot Premier League

News Report
Pro Division Power Rankings - Week 1
Author: northernWV, 02/17/20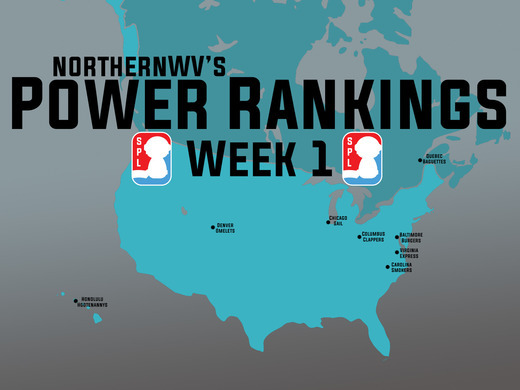 1. Columbus Clappers (Panarin, Dream, meat, Criz)
The Clappers return their entire roster and are the undisputed number 1 until proven otherwise.
2. Carolina Smokers (Kspyre, Rodeo, SooperSmokerKyle, TheC0ckyWalrus)
The Smokers add the regular season MVP Rodeo to an already impressive lineup to become the projected number 2 team in the Pro division. Kspyre, Rodeo and Walrus are all powerhouses on offenses while Kyle is an elite defender, Walrus had arguably his best season when he was being fed pucks from Rodeo, so I would expect him to rebound from a slightly disappointing season (stat-wise) as long as he can avoid internet problems and lag.
3. Quebec Baguettes (Chef Reno, fsi, Occelloth, Renard, Galzzy)
After the top 2, the pack becomes a little less clear and is much more up for debate. The Baguettes boast a lot of skill on both offense and defense and a 5 man roster that is filled with talent from top to bottom. The Baguettes are a re-branded St. Louis Storm team in order to keep their Pro division spot, but lose their MVP in Rodeo who is now with the Smokers.
4. Denver Omelets (Balucha, scodz, Dyno Mike, Noob, Hasek)
With Shiba and Johnny moving to North Korea, the Omelets had to find viable replacements and they managed to do exactly that with the addition of Dyno Mike as well as Noob_Weapons. The Omelets have a good cast in place and will try to break through from the middle of the pack where they seem to always finish.
5. Baltimore Burgers (Delvige, Panther, Walster, EW, qslvr)
The dynamic duo of Panther and Walster are back again, last playing together for the Boston Stallions in NSL Season 1. Since then, Walster has given the Clappers their only regular season loss in the SPL and Panther has made two straight finals appearances. This team has high potential.
6. Honolulu Hootenannys (EpicMan67, FatLeft,TheLuigi, Shrub, Jambi)
The Hootenannys return their starting lineup with the addition of highly-touted newcomer Shrub. I expect Honolulu to land safely in a playoff spot to retain their Pro division status, but nothing is guaranteed in this highly competitive division.
7. Virginia Express (Seppy, Hellhaunt, Rath, Evil)
The Express add EVIL to give them 2/3 of their starting lineup from NSL Season 1. The Express were my personal vote for most improved in the SPL placement season and really started rolling towards the end of the season with wins over the Burgers and Fishermen, as well as close 1 goal losses to the Clappers and Storm.
8. Chicago Sail (vorq, yuri gagarin, Spleen, BooYah)
The Sail were the most improved team in the SPL placement season, yet finished 10th. Chicago got the nod to Pro division after Long Island disbanded and Nashville failed to retain at least two players, but the Sail will not be an easy out and have the potential to make some noise.