Slapshot Premier League

News Report
SPL Placement Playoffs Round 1 Recap
Author: EpicMan67, 01/22/20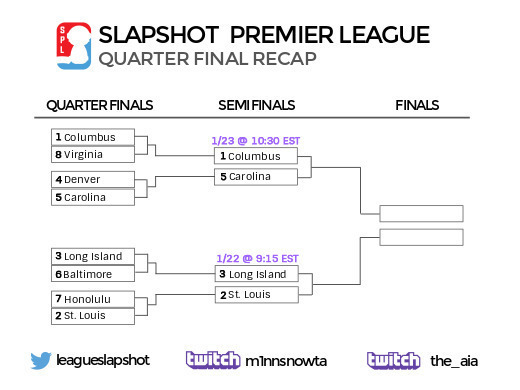 Long Island Fishermen 2-0 over the Baltimore Burgers (12-4) (7-3)
A lot of people had varying expectations for this quarterfinal match-up. Most leaned towards the Fishermen due to Dyno Mike being another top runner for MVP this season. This game failed to deliver in what people thought might be a close game. The first game saw Dyno and Noob run over the Burgers with 6 and 4 goals respectively, while the second game had Dyno sitting on top with 4 goals. Overall the Burgers seemed inconsistent between their two games, switching out players between them, and the Fishermen were able to capitalize.
Carolina Smokers 2-1 over the Denver Omelets (4-6) (6-3) (9-8)
This was by far the most exciting series we have had in the SPL so far. Two solid teams with great potential. In the regular season, the Omelets won 6-1 over the Smokers, but the Smokers came back swinging. After an initial game with TheCockyWalrus, the Smokers subbed in DENN1S, who put up an impressive 8 goals in two games to help bring the Smokers to victory over an otherwise solid performer in the Omelets.
Columbus Clappers 2-0 over the Virginia Express (6-3) (7-2)
This result was something everyone expected. The Clappers pushed aside the Express with relative ease, struggling a bit here and there, but still putting the puck away when it mattered most. The Express showed promise in the first game, holding it close for a majority of the game before falling flat towards the end. The Clappers are looking to claim the first SPL title to an already impressive trophy cabinet.
St. Louis Storm 2-0 over the Honolulu Hootenannys (3-2) (9-2)
The Storm took care of business in usual Storm fashion, an OT game. The Storm, now 4-0 in OT games (two of which are against the Hoots), clutched up when it counted. Chef Reno held down the defensive end while still producing on offense, and was the key difference maker on the ice for the Storm in the first game. The second saw the Hoots fall apart, letting in multiple goals in quick succession. Chef Reno finished the series with 10 saves, shutting down the Hoots offense.
Looking Ahead

The Fishermen will go head to head against the Storm tonight 1/22 at 9:15 EST

The Clappers will take on the Smokers tomorrow 1/23 at 10:30 EST
The winners of both games will go head to head in the Placement Season Finals.