Slapshot Premier League

News Report
SPL S3 Playoff Preview
Author: M1NN, 08/11/20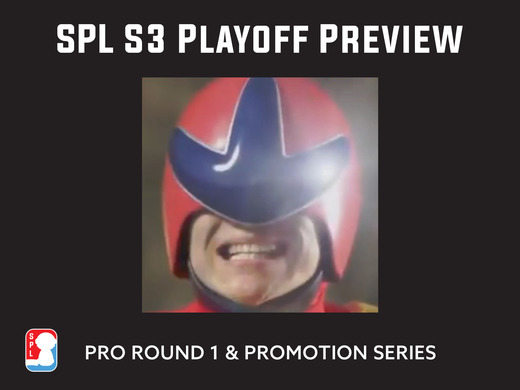 Pro Division Playoffs:
#3 San Jose Surge vs #6 Chicago Sail
Out of the 4 series we are going to see to start off our playoff action, I can see this matchup being one of the most one-sided. The Surge are coming off a solid final week, which included a 10-5 victory over the Sail. Chicago has been lost without Spleen these past few weeks, barely squeaking into the playoffs only due to the struggles of the Storm. I see the Surge having very little issue finding their way into the Semi-Finals.
Final Prediction: Surge 2-0
#4 Portland Platypus vs #5 Brooklyn Bandits
Now THIS should be a series. While Portland's last week wasn't anything groundbreaking, they still put up some solid performances. Brooklyn is a team that I have been very high on in the past and still have a good amount of hope for in this matchup. One thing that should be noted is that Portland won the season series between these two teams 2-0. With that in mind I have to give Portland the nod in this series. I think Brooklyn will give them a good fight, but overall the Platypus have been a much more consistent team this season and that consistency is what is going to give them the W.
Final Prediction: Platypus 2-1
Pro Promotional Series
#2 Olympia Omegas (IM) vs #8 Denver Omelets (Pro)
This is another series that I see being very one-sided. The Omegas, especially now with Spleen, are a Pro level team. The Omelets, as their struggles have proved this season, are not. I have high hopes for the Omegas, both for this series and beyond during the next season of Pro Division which is why I think they will have no problem sending the Omelets down to IM. Don't be surprised if we see a mercy rule in this one.
Final Prediction: Omegas 2-0
Intermediate Promotional Series
#2 Pennsylvania Ball-Peen Hammers (Open) vs #7 Oklahoma Exotics (IM)
This is a series I have wanted to see ever since the season began. The Hammers were made up of Exotics bench-warmers after they got their promotion last season and have been incredibly impressive in Open Division this season. HZR has emerged as a new star while Cherries and Yurtle have provided solid support to their MVP candidate, not too different from Green and the Exotics last season. While the Hammers have flourished in Open, the Exotics struggled in IM. They lost their star player, only managed to pick up one win, and just overall haven't looked like the team that dominated Open just a season ago. Still, I do believe this team is better than their record shows, and they have the chance to prove it by keeping their IM Division spot.
Final Prediction: Ball-Peen Hammers 2-1