Slapshot Premier League

News Report
SPL S3 Pro/IM Power Rankings
Author: M1NN, 07/22/20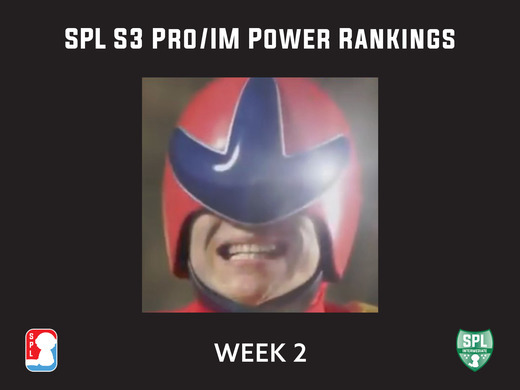 Pro Division:
1. Columbus Clappers (6-0-0) (-)
No surprises here as the Clappers remain my number one team heading into week 3. A 4-0-0 week which saw them score 10+ in every game they played is a very good look, especially when one of those was their first time playing without Panarin in SPL history. At this point an undefeated season is looking like a sure thing for the Clappers unless one of these teams can find a way to slow them down.
2. Miami Vice (4-2-0) (-)
After a slightly disappointing week one for the Vice they come out of week 2 with no new losses and 3 new wins. Now, while there is little to complain about in a week where they went undefeated, the close scores against the Platypus and the Sail do have me a little worried. This is a team that last season prided itself on being an offensive powerhouse and outside of an absolute stomping of the Omelets, I really haven't seen that this season. The Vice have a bit more challenging of a week coming up, with a rematch against the team that pulled off an upset against them in the Storm. Could be a good week for them to pull off another blowout victory and re-assert themselves as the challenger to the Clappers they were meant to be.
3. San Jose Surge (4-2-0) (+1)
To be honest, if I could have the Surge and Sail be tied in these rankings I would. However, I gave the Surge the nod over the Sail last week so I might as well do it again. The Surge were another team that had to play 4 games this week, and they did pretty well. A 3-1-0 record with their only loss being to the Clappers is nothing to look down at. However, those close games against the Storm and the Omelets on Monday night have me a little worried. I saw the same pattern in those games that I saw during some of the Bandits games I have seen. A lot of offense generated but very few goals to show for it. The Surge have a very interesting week coming up which will help me decide how I should really feel about this team
4. Chicago Sail (3-3-0) (+1)
Coming in just barely behind the Surge this week are the Chicago Sail. This might be surprising seeing as how they went 1-2-0 this week, however with those two losses coming against the Clappers and the Vice it starts to become more clear. Plus, the Sail almost BEAT the Vice, keeping that game close throughout. The Sail strike me as one of the more dangerous teams in the league at the moment, with a good blend of offense and defense I feel they can play against any team well. However, if the Sail want to move further up these rankings, they are going to have to start winning rather than just playing well.
5. St. Louis Storm (2-4-0) (-2)
O how the mighty fall. After a week 1 that saw them upset the Vice then have their other two games delayed, week 2 saw the Storm play a lot of matches and struggle in most of them. 1-4-0 record in week 2 in which their only win was an OT victory over the Omelets is, uh, not good. However, some slack has to be given. One of their losses was against the Clappers, another was against the Sail while they were down a starter and forced to play a VERY rusty CC, and their other two losses were very close games. Still, the Storm came nowhere close to reaching the same heights they reached during that Vice match and I'm starting to worry they never will.
6. Brooklyn Bandits (2-4-0) (-)
"What a minute M1NN, the Bandits beat the Storm! How are they below them on this list?" Great question imaginary commenter I just made up! The Bandits did manage a win over the Storm, however they also managed to lose to the Platypus which made them a difficult team to rate this week. This seems to be a trend for the Bandits at the moment. Pull off a solid win against a team above them, then lose to a team below them, they truly are an enigma. The Bandits will have a good chance to push themselves up this list however, as this next week sees them face the Vice, Surge, and Sail. Pulling off a win or two this week could give the Bandits a pretty good boost.
7. Portland Platypus (2-4-0) (-)
Now, why is Portland still behind Brooklyn? Well unlike the Bandits the Platypus don't seem to carry that same "random upset factor" which leaves them in the number 7 spot for this week's list. A 1-2-0 record this week which saw losses against the Vice and the Surge. Now, to Portland's credit, they managed to keep that game against the Vice VERY close until the last few seconds. Still, I want to see a statement win out of Portland before I move them up this list. Maybe that could be against the Storm? Guess we will have to wait and find out
8. Denver Omelets (1-4-1) (-)
Despite a blowout loss to the Vice, I think Denver looked better this week than they did last week. However, an 0-2-1 record is not going to do them any favors when it comes to moving up the list. And, again, offense continues to be hard to find in Denver as their highest goal total for a single game this season is just 5 goals. Defensively however, Timmy has been a god and helped keep their matches against the Storm and Surge close. If Denver can find any form of offense in the next week they have a chance to cause some noise. On that thought, a certain offense star just found their way into the FA pool….
Intermediate Division:
1. Carolina Smokers (6-0-0) (-)
The Smokers saw both the Omegas and the Baguettes challenge for their number one spot this week and despite some close results they were able to send them away. They also picked up a win over the ShrimpRiders to keep themselves undefeated heading into week 3. Now, that win against the Riders was probably closer than any Smoker was hoping for, especially since the Riders kept them scoreless through the first 2 periods. Also I can't keep avoiding the elephant in the room here. Kacktus, the team's offense star and MVP front-runner, is gone. That type of talent is not easy to replace, and while Donut is not a bad replacement, his recent lag issues means he might not be playing to his fullest abilities. But the scariest part of this move? That's the fact that I might have to play a game. Luckily for the Smokers they have an easy week ahead of them, so hopefully they will be able to adjust to their new life without Kacktus in time.
2. Olympia Omegas (5-1-0) (-)
The Omegas played well this week, however they were unable to upset the beast so they remain here in the number two spot. Along with their one goal loss to the Smokers the Omegas crushed the Cows and pulled off a solid win against that now defunct Barracudas lineup. Overall the Omegas are in a good spot at the moment, however they better make sure not to let their guard down this week as they are playing against the two other teams that have a chance to steal their chance at promotion away
3. Quebec Baguettes (5-2-0) (-)
With a very similar week to that of the Omegas, the Baguettes once again find themselves in the number three spot. The Baguettes blew out the Cows, lost by one to the Smokers, and took down the Duker lead Cudas. Much like the Omegas did. However the Baguettes did have one more game this week, which ended up being a one goal victory over the ShrimpRiders. Quebec continues to put up good results this season, however, they are going to need to pull off an upset or two if they want to find themselves in the top 2 come postseason.
4. Midwest ShrimpRiders (4-2-0) (+1)
From the ashes of the Barracuda's old roster comes our newest challenger. While many might look at the race for promotion as a 3-team race, we shouldn't count out the ShrimpRiders quite yet. Midwest went 2-2-0 this week though every game was very close. A one goal loss to the Baguettes and a two goal loss to the Smokers shows that this team is capable of hanging with the best of them. They also managed to force Duker to pull a Kevin Durant by beating his team so hard they disbanded then swooping him up as their new third. While LOVE did a decent job filling in so far this season, I think Duker helps make this team a real threat to those above them.
5. Drumbo Cows (2-5-0) (+3)
Now I hate to say that the rest of these teams have no chance at earning a promotion this season but… Still, these teams need to worry about avoiding demotion and, at the moment, Drumbo is doing the best at that. This week started with two blowout losses for the Cows. They then dropped Kappa, signed Robert, and picked up two good wins over some of the lower competition in the division. I'm glad to see the Moo Tang Clan finally string some wins together and while I still don't think the top teams in the division have much to worry about, the Cows do seem to be finally finding their footing here this season.
6. Bangor Yetis (1-4-0) (+1)
The Yetis had their struggles this week, however, they managed to pick up a win over the Exotics which sees them moving up on the list. The Yetis did keep their two losses relatively close however, and the addition of the Baumz seems to be already paying out in full. Much like the Cows, the Yetis are not going to challenge for a top two spot this season, but they certainly have the tools to maintain their spot here in IM.
7. Oklahoma Exotics (0-6-0) (-1)
While they only played two games this week, to lose to the other two bottom teams in the division has to be a bit soul-crushing for the Exotics. A team that I had high hopes for this season looks like a shell of their former open domination selves. Without Green this team has struggled offensively and with Hoodie leaving the team behind they now are in the market for a 4th in an ever increasingly small FA market. Oklahoma still has time to turn this ship around, don't get me wrong, but they are going to need to make some changes to not find themselves back down in Open
8. Baton Rouge Barracudas (1-4-0) (-4)
How do you rate a team that only has one player whom hasn't played in SPL since the Placement Season? Not really sure to be honest, so that's why the Cudas are here. Their entire former roster is gone. Epicman is retired til rebound, Donut has decided to join the Smokers while Duker has found a starting spot on the ShirmpRiders. Now, I have heard the rumored lineup for this team is going to be Blaise, Green and Kappa. To be honest, if that is true, I don't see a reason to move this team up. Like I said earlier Blaise has been gone for a long time while his two rumored teammates are coming off a blowout loss in OPEN division. I'm interested to see if Blaise can keep this team afloat or not, right now I'm leaning towards not.
Games to watch this week!
Pro Division
Vice vs Storm | 7/22 10:00PM EST
The Storm pulled off this upset once but have struggled since, could they do it again?
Surge vs Sail | 7/24 10:30PM EST
These two teams are the closest to the top 2 in my opinion. A win here could give either of these teams the momentum they need to take down the Vice and steal that top 2 spot
Intermediate Division
ShrimpRiders vs Omegas | 7/22 9:00PM EST
The ShrimpRiders could really prove themselves as contenders if they could pull off this upset against the Omegas
Cows vs Barracudas | 7/24 9:00PM EST
The first chance to see the new Barracudas lineup, if they put it together by then
Baguettes vs Omegas | 7/24 10:00PM EST
Round 2 of these top teams going at it, will the Baguettes manage to pull off the win this time or will the Omegas blow them out once again?