Slapshot Premier League

News Report
SPL S3 Pro/IM Power Rankings
Author: M1NN, 07/29/20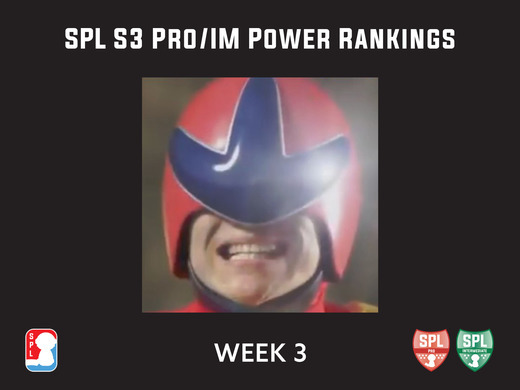 Pro Division:
1. Columbus Clappers (8-1-0) (-)
Another week, another number 1 spot for the Clappers. The Clappers performed decently this week without their star captain, however they did still lose their first game of the season in an upset loss to the Platypus. Still, much like the other weeks, no team has really come close to truly challenging the Clappers top spot in these standings, and with the Vice's struggles, the Clappers path to the first seed and the Lucha trophy look as clear as ever.
2. Miami Vice (6-3-0) (-)
Well, the Vice did get that blowout victory I asked them to get over the Storm, so that was nice. Otherwise though, another disappointing week for the Vice as they fall victim to yet another upset, this time at the hands of the Brooklyn Bandits. However, their close victory over the Surge keeps them in the number 2 spot for now. Now, I don't know if it's lack of caring for the regular season or what but this team just fails to look like the Vice squad we saw last season. I hope the Vice can make it past these issues come playoff time.
3. San Jose Surge (6-3-0) (-)
The Surge had a very solid week allowing them to hold on to the number 3 spot. Key wins over the Bandits and Sail plus a very close loss to the Vice is definitely something to be proud of. Though, looking over the Surge's past 5 games there seems to be a pattern emerging. 4 out of their last 5 have all been decided by one goal. Now this isn't necessarily a bad thing, since being able to hold some of the best in the league within one goal is a very good sign, but it does make me worried about their chances of competing for that second seed and first round bye. If they continue to allow the bottom teams of the league to hang with them like this, I could see one pulling off an upset and ruining the Surge's chances. Still, the Surge have proven time and time again that they can compete with the best this league has to offer this season, and are worthy of this 3rd spot
4. Portland Platypus (5-4-0) (+3)
I'll admit I messed up on this one. Coming into last week's rankings the Platypus were a team that, while competitive, didn't really have any wins that "wow'd" me. That all changed this week when they took down the Clappers 6-3. Now, they were without Panarin and, apparently, weren't happy with the server that was chosen, but still, a win over 3 of last season's top All Stars is hard to ignore. Add on to that an OT win over the Storm and a solid win over Denver and you have a great week for the Platypus that lands them in this number 4 spot. I also have to give special mention to Kush Mama here. I said early on in these rankings that I wanted to see him improve and show that he could hang in the Pro Division. He did just that this week with 12 goals and 4 assists earning him those 1st star honors. With Kush finding his footing, Portland looks like they could be a real threat come playoff time.
5. Brooklyn Bandits (4-5-0) (+1)
Another team with a good upset victory this week, the Bandits are coming off a very solid week which saw them pick up wins over both the Sail and the Vice. They also suffered a loss to Surge to finish off the week, which keeps them down in this number 5 spot for this week. Once again though the Bandits showed off their ability to punch above their weight class, which makes me feel that this team could be one that pulls off an upset come playoff time. I also feel that the core of this team is starting to form better and better chemistry. I'm interested to see how good this team will look once the postseason begins
6. Chicago Sail (4-4-1) (-2)
The Sail had a very heart pounding week 3. 3 games, all decided by one goal, two of which made their way to OT. But the biggest loss the Sail suffered this week was not against San Jose nor Brooklyn. Spleen, a core member of the Sail's lineup for these past 3 seasons, got swooped away by Yuri's former teammate vorq in, to my knowledge at least, the first cash based deal in SPL history. The Sail were able to find a new 3rd in Baumz before the deadline struck, but this move certainly sets the Sail back. While I do like the potential Baumz has, I think finishing off the season in IM was a much better way to refine. Now that he has been thrown straight into Pro, it's going to be sink or swim for him and the Sail. We will see if he can help keep this leaking boat afloat.
7. St. Louis Storm (2-6-1) (-2)
Every season there seems to be one or two teams in the Pro Division that struggle compared to the rest. I saw Denver's struggles coming before the season began, however, in no universe would I have expected the Storm to be the other team sitting at the bottom of this list. A team with such a hopeful start has looked essentially lost ever since. They gave the Clappers a good fight this week, and brought Portland to OT, but they lost both those and got demolished by the Vice. While FSI, MDub, and Rath are certainly talented in their own right, they can't seem to be able to find any chemistry together whatsoever. They have struggled to leave their own zone this season, with their match against Portland only being as close as it was due to 9 saves from FSI and 14 saves from the team as a whole, and their game against the Vice was a great example of what happens when that defensive wall crumbles. The Storm aren't out of this yet, but even if they do manage to make playoffs, I have a tough time seeing them making it past their first round opponent.
8. Denver Omelets (1-6-2) (-)
The other constant in these power rankings, the Omelets once again find themselves at the bottom of the list. They gave some better performances this week, but to be honest it was more of the same out of Denver. 3 losses, one in OT, and some internal team struggles as Denver continues to fall further and further back in the standings. On a small positive note, EW seems to be building a bit of chemistry with the former Ireland duo, so if the Omelets do get relegated after this season I could see this lineup sticking together and fairing decently well in IM.
Intermediate Division:
1. Carolina Smokers (9-0-0) (-)
THE KACK IS BACK! In a move that everyone saw coming Kacktus has returned to the Smokers before the roster deadline, replacing me :(. I at least got to put in some decent performances before my departure as the Smokers once again went undefeated this week. With the final weeks closing in, Carolina stands a real chance at becoming SPL's first ever undefeated team in ANY division. And with the pick up of Donut, the Smokers gain a good bit of depth too. However, the season isn't over yet, and this next two weeks include some of the toughest teams in the division.
2. Olympia Omegas (5-2-0) (-)
Due to some scheduling issues this week the Omegas were only able to get one game in, a 11-9 loss to the ShrimpRiders. Not a great look however that loss alone is not enough for me to move the Omegas out of the number 2 spot. Especially since they snagged Spleen away from the Sail. Kyler, Vorq, and Spleen is a Pro level lineup, so it will be interesting to see if that allows the Omegas to finally best the Smokers and take their number one spot.
3. Quebec Baguettes (7-2-0) (-)
A simple, but effective week for Quebec keeps them in the number 3 spot. Two games played, two wins including an absolute man-handling of the Yetis. Sadly their rematch against the Omegas had to be pushed back a week, but I guess that just makes it that much more interesting, doesn't it? If the Bags can win that matchup, they will have a clear path to a chance at promotion. A loss, however, could spell disaster for Renard's squad.
4. Midwest ShrimpRiders (6-3-0) (-)
Midwest did a great job at leaving me a bit dumb founded this week. They started the week by giving Oklahoma their first win in an 8-6 loss that saw Oklahoma playing with an emergency sub. After that….disappointment, they then went ahead and played their best game of the season and took down the Omegas 11-9. Now Midwest find themselves in a very familiar situation to last week, a couple of key wins away from a promotion spot. They have barely any easy games from here on out, but if they can pick up some key wins we could see them walk away from this season with that number 2 spot.
5. Baton Rouge Barracudas (4-4-0) (+3)
I made some harsh comments about the new look Cudas last week and, as per usual, they immediately blew up in my face. 3 wins this week, though one was a forfeit, in which our new Barracudas roster looked very solid. Seeing a team suffer complete roster turnover mid-season usually spells disaster, however Kappa and his squad have managed to hold on to that chance at promotion, at least for now. It's going to require some perfect play and even a couple of losses from the teams above them, however, the Cudas could still very well pull this off. Next week will be key in deciding which the Cudas can keep this dream alive, or if they will have to wait til next season to reach their full potential.
6. Oklahoma Exotics (1-9-0) (+1)
For these next 3 teams a chance at promotion is too far gone at this point, however, the chance to avoid demotion is still there. As of right now, I feel the Exotics have the best chance of this. After an incredibly rough season so far, it seems Oklahoma has finally found some solid ground. They picked up MarX, relation to Karl Marx currently unknown, who came out of nowhere and gave this team the jolt they needed. In just his first game, MarX and company took down the ShrimpRiders and scored the Exotics their first win of the season. After a loss to Carolina which saw him riding the bench, he got another chance and helped the Exotics keep it close against the Baguettes. Overall, with the strength of schedule Oklahoma had to face this week, they did a good job and have re-ignited my hope that I had for them to begin the season.
7. Drumbo Cows (2-7-0) (-2)
2 games, 2 losses for the Cows this week. A loss to the Smokers which, to their credit, they keep decently close then a shutout loss to the Cudas. With the Exotics surging at the moment the Cows spot in the standings is in jeopardy. While I don't see the Cows being able to pull off any wins next week, that last week of the season could be key for them as they try to stay out of relegation range. Especially that rematch against Exotics.
8. Bangor Yetis (1-8-0) (-2)
Just when things were starting to finally look bright in Bangor, they have arguably their worst week yet. 3 blowout losses, then they lose their new star to the Sail, then because of their lost player they are forced to forfeit their next match. To be honest, with Baumz now out of the picture, I don't see this team being able to stay in IM once this season is over. I hope they are able to find a way to prove me wrong.
Games to watch this week!
Pro Division
Bandits vs Platypus | 7/30 10:00PM EST
Two teams who pulled off major upsets last week, which one will solidify themselves as a true playoff threat?
Surge vs Clappers | 7/31 9:30PM EST
After barely missing out on the upset last week, the Surge look to try to take down a top 2 team once again.
Platypus vs Surge | 7/31 10:30PM EST
Much like their match against Brooklyn, the Platypus have another chance to prove their win over the Clappers wasn't just a fluke.
Intermediate Division
Smokers vs ShrimpRiders | 7/30 10:00PM EST
The ShrimpRiders pulled off the upset last week and are looking to pull an even bigger one of this week, a win here could make them a serious threat for that number 2 spot.
Barracudas vs Baguettes | 7/31 9:00PM EST
The new look Cudas are coming off a great first week and smell blood in the water, could they pick up this win and start their miracle run towards promotion?
Baguettes vs Omegas | 7/31 9:30PM EST
A delayed match from last week, I told you to watch out for this one back then and now I'm saying it again.