Slapshot Premier League

News Report
SPL S4 Pro/IM Power Rankings - Week 1
Author: M1NN, 09/07/20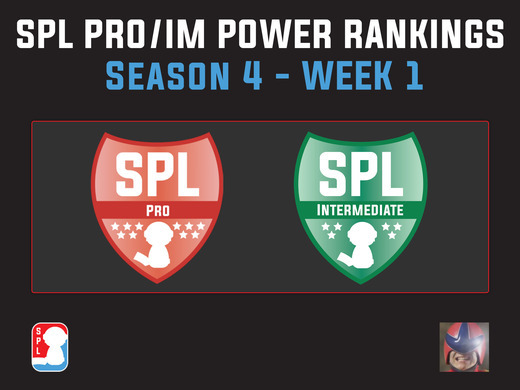 Pro Division:
1. Columbus Clappers (Panarin, Occelloth, TyrantK, and Dream) Number 1 on this list should come as no surprise to anyone. The Clappers capped off yet another SPL championship winning season with a 3-0 sweep of the Miami Vice. They are coming into Season 4 with that same star-studded lineup of Season 3 MVP Occelloth, TyrantK, and of course Panarin. The Clappers were only one of 2 teams to not make a change to their roster during the offseason and it's easy to see why. With Reno leaving the Vice the Clappers number 1 spot looks as secure as ever, we will see if it stays that way.
2. Miami Vice (Meatsale, Rodeo, and Timmy) Our number 2 team is also not a very big surprise. The Vice once again made Finals last season and once again came up short. After his 3rd straight finals loss Reno decided to leave Miami behind in the hands of Rodeo. Coming in to fill the defensive void is one of the top goaltenders in the league in Timmy. Timmy has always found himself near the top of the saves stat every season, even picking up the Stone Wall award last season with 96 saves. However, despite Timmy being a fairly solid player, he has never really found too much success here in the SPL. With a very talented offensive duo ahead of him will he finally have his breakout season or will the Vice struggle without their former captain?
3. Richmond Rats (Kspyre, Reno, Rath, and Seppy) After a disappointing round 1 loss in Playoffs, Kspyre decided it was best to clean house and move out of San Jose. He hopped on an Express train to Virginia to meet up with Reno, Rath and Seppy to form the Richmond Rats. With a reunion of a Season 2 Finals lineup, plus Kspyre, the Rats seemed set up to be a serious threat this season. Despite coming away empty handed each time, Reno is a 3 time finalist now. And Rath, despite his struggles last season with the Storm, has a championship of his own under his belt now. My main question I have when it comes to this team is how they plan to position themselves. I feel that both Reno and Kspyre have found themselves playing heavy amounts of 3 these past seasons so if both plan to start a position change is in order for one of them. I believe both have the talent to pull it off, but we might see some growing pains in these first couple of weeks.
4. Portland Platypus (C0ckyWalrus, Jak, Kush Mama, and Slime) Not much has changed for Portland as they head into Season 4 and that's probably for the best. The trio of C0ckyWalrus, Jak, and Kush Mama had an excellent end to the season, despite a lackluster playoff performance. A team which I thought would struggle to find success instead proved themselves a threat to some of the best teams in the league. With a season of chemistry by their side, plus a nice bit of added depth in Slime, the Platypus are my dark horse pick to make the Finals this season. Even if they don't make Finals, I think Portland is set up to be a team that everyone is going to have to keep their eyes on.
5. Carolina Smokers (SooperDooperKyle, Lemonbond, Kacktus, and Donut) One of 2 new teams to our Pro Division, though they do have a familiar name. The Smokers are back in Pro! Coming off a record breaking season in Intermediate, Kacktus leads the way for the squad offensively with LemonBond not too far behind him. Defensively Kyle leads the way, finding his way back to Pro Division after being benched the last time he was here. The Smokers decided not to make any changes to their IM winning lineup though one does have to wonder how well they will hold in Pro. Personally, while I don't see this team winning the Finals this season, I do think their chemistry together will carry over well into Pro Division.
6. Chicago Sail (Yuri Gagarin, Kyler, Walster, and TEE) This team was tough to place for me. Now, if I had good reason to believe that this team's starting 3 would be Yuri, Walster, and Kyler they would be MUCH higher up on this list, potentially top 3. However, from what I can gather, Yuri is stepping away leaving this team with Kyler, Walster, and TEE. No offense to TEE meant here but Yuri is one of the best 3s in the game while TEE only has experience playing in Open. Could TEE be ready for the jump up? Possibly, but I haven't seen enough of him to fully believe that is the case. Still, Kyler and Walster are good enough on their own to give this team the 6th spot.
7. Brooklyn Bandits (Derek, qslvr, scodz, and M0nki) This was another team that I had a hard time placing on this list. The Bandits are coming off a pretty good season all things considered. A fairly good regular season record and a 2-1 loss in the Semis to the Clappers is nothing to sneeze at. But, for some reason, I can't help but think that this team is going to struggle this season. One thing that is for sure going to affect this team is the loss of Panther. Scodz is a decent replacement but Panther was always one of the most underrated players in the league to me. Add on qslvr getting nerfed by the server update and you have a squad that I think is going to struggle compared to their performance last season. However, I think this team is going to be a playoff contender regardless so don't count them out yet.
8. Olympia Omegas (thehumanshieldz, Spleen, Dave, and Domikus) Finally we end up with our 2nd new team this season. Coming into this season I had high hopes for the Omegas. A solid season plus a good win over an undefeated Smokers team left me thinking that this team could cause some real damage in Pro. Then Kyler and Vorq got dropped. Don't get me wrong, I believe Shieldz made the right call in letting them go, however, I must admit their replacements don't exactly fill me with a lot of confidence. Dave has been able to put up goals in Pro Division these past 2 seasons but that's really it while Dom has struggled to find the ice at all. Maybe this team will prove me wrong, but as it stands, I feel the Omegas are going to need to make some moves before the deadline to become a legit contender.
Intermediate Division:
1. Quebec Baguettes (Renard, EviL, FSI, and Duker) The first team out last season is also my first team on this list. After finishing just outside the top 2 in IM last season it's easy to see why the Baguettes find themselves at the front of the line this season. While this team did lose a starter in Scodz, they got back their old captain FSI to lead the defense this season. Joining FSI as a newcomer is Duker, who brings a good amount of depth to an already solid team. Overall, I feel very few IM teams are on the same level of talent as the Baguettes. I would be shocked to find them outside the top 2 come postseason.
2. Ontario Outliers (Cape, Vorq, Highflyer, and Roberti9) When I first started brainstorming these rankings a few days ago I did not expect Ontario to place well on this list. Then they picked up Vorq. While Vorq isn't going to carry a team to promotion himself, his talent alongside Cape's makes the Outliers a very formidable force this season. Joining them along the way are Highflyer and Roberti9. Robert is a player I am very interested in this season, as now that he has a solid lineup around him, I think he could really help take this team to the next level.
3. Denver Omelets (Balucha, EW, Green, and Boowi) With the Storm disbanding Denver is the only former Pro team who found their way into IM this season. Overall I feel that Denver has a solid lineup. Green gives the team a good offensive force while Balucha can certainly hold his own on the defensive end. I imagine EW will be getting the start over Boowi, at least to begin the season, though both players I think will fill that 2 spot in nicely. The teams above Denver make their path to top 2 not easy but I can certainly see them pulling it off
4. Yosemite Grizzlies (Random Player, Baumz, Wendy's Cashier, and Darnell) Next up on the list is a team that I have gone back and forth on. The Grizzlies host some interesting talent. SPL veteran Random Player leads the team alongside former Pro player Baumz. Joining those 2 are the Chimps duo of Wendy's Cashier and Darnell. Despite the Chimps being unable to earn a promotion last season, I think both Wendy's and Darnell are ready to make the jump to IM. Overall, the Grizzlies certainly have the chance to scare some of the top teams, though promotion will be difficult to reach.
5. Honolulu Hootenannys (TheLuigi, FatLeft, JonesyZzZ, and Jambi) The Hoots are back! After taking a season off, Luigi and FatLeft are back to compete in Intermediate once again. Joining them is Jonesy, a player who I have never heard of before. Luigi and FatLeft are a very talented duo, but it takes 3 to make a starting lineup and with Jonesy being a gigantic question mark it's hard for me to put the Hoots any higher than this 5th place spot. However, if Jonesy can prove themself as a valuable third then this team has nowhere to go but up.
6. Pennsylvania Ball-Peen Hammers (Yurtle, hzr, Cherries B, and Shallisa) After defeating their former team to earn this spot, the Ball-Peen Hammers find themselves looking up at a tough Intermediate Division. The Hammers had an excellent season in Open with only a couple of blemishes. Hzr paved the way picking up MVP honors for the club as Yurtle and Cherries did a great job assisting him. Like any team coming off promotion, the biggest question is whether or not the Hammers can continue that success. The Exotics looked great coming into Intermediate too, but we all know how that turned out. Still, I have high hopes for the Hammers, and I would love to see them turn some heads this season.
7. Philippine Eagles (Sapster, Ghoul, SoS_RaMbO, and Cameron) Wrapping up our Intermediate list is the last team to sign up for this season. Sapster has returned to the world of captaining alongside Ghoul, Cameron, and SPL rookie SoS_RaMbO. Ghoul is a player who I feel gets disrespected when it comes to his playing ability. While he isn't the greatest player out there, he can be a very solid addition to a lineup. Rambo is another player to look out for. While they have never participated in competitive Slapshot before, I have seen them in a TON of pubs and I'm impressed every time. Truth be told, between Rambo, Ghoul, and Sapster, this team has a lot of question marks. I think once this team finds their footing they could pull off some serious upsets, or maybe they will disband within a week who knows.
FA Spotlight:
With the offseason wrapped up there are still some interesting names floating out in the FA pool. Here are the top names I am keeping an eye on.
- Dyno Mike
Dyno Mike is going through something which I like to call "Schrodinger's Retirement" where at any given point Dyno Mike could be retired or unretired. Memes aside, Dyno is still an incredibly solid player and one I'm sure many teams could find a use for. If I was Miami, a team who still needs a sub, this name would be on the top of my list.
- Criz
Despite being an award winner last season Criz has found himself without a home to start Season 4. Much like with many FAs I don't truly know whether he is done playing or not, but if he still has a will to play then I think he will find a home in Pro by the deadline.
- MixT
MixT is a player who has been around for a looooooong time, though he has not played too much here in SPL. He has made himself available this season with one major catch, it must be a Pro team. To be honest I don't think MixT is ready for the Pro level yet, however, I could easily see him finding a spot on an IM team.
- b*tt
To round out the spotlight is one last IM level player in b*tt! According to his FA post b*tt is mostly looking to be a sub in the upcoming season. While all the current IM teams already have subs, people will get dropped most likely. When that does happen, I imagine any team in need of a new 4th will be looking b*tt's way first.