Slapshot Premier League

News Report
SPL S4 Pro/IM Power Rankings - Week 3
Author: M1NN, 09/23/20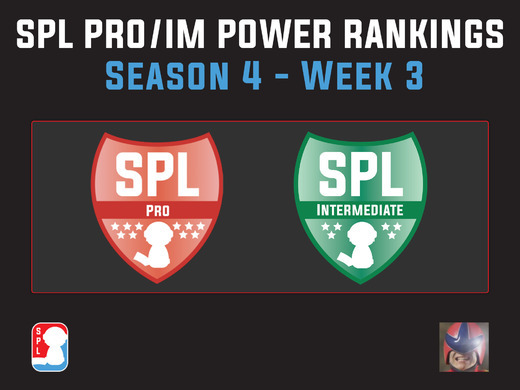 Pro Division:
1. Columbus Clappers (5-1-0) (-)
Another week, another number 1 spot goes to the Clappers. While things looked a little scary for the Clappers this week, a loss to the Sail and a close game against the Smokers, they gave me no reason to move them down this list. The Clappers are continuing to do what they always do, mess around and win games. Occelloth put up an impressive 19 point performance this week, including scoring 9 goals vs the Omegas. As the season continues, it's looking less and less likely we will see a team rise to the challenge to take them out of this first spot.
2. Miami Vice (5-0-1) (-)
An undefeated week from the Vice leaves them in the number 2 spot after Week 2. The Vice played well this week, picking up close wins against the Bandits and the Smokers before blowing out Richmond. While the loss of their former captain might have stung a bit, Miami has not let it slow them down in the slightest. 14 points from Meat this week earned him 2nd Star honors while Timmy's offensive production sky-rocketed this week as he picked up 8 goals. For the third straight season, if we were to find a team who could potentially match up with the Clappers this season we would find it here. Their match against Columbus this week will be Miami's chance to prove that they have the ability.
3. Portland Platypus (4-2-0) (+1)
Swapping Portland and Chicago is the only move I'm going to be making for the Pro Division rankings this week, so let me try to justify it a bit. Portland had a fantastic Week 2 after a difficult Week 1. Going undefeated this week with wins over Richmond, Carolina, and, most importantly, Chicago. Their 3 starters all put in 15+ point performances this week. Jak led the league in saves this week with 18 as Kush tied Occelloth with 13 goals scored, including 6 goals in that key win over Chicago. Overall the Platypus were consistent and deadly, and that consistency is what propels them over Chicago in my eyes, at least for this week.
4. Chicago Sail (4-2-0) (-1)
Time to talk about the other half of the swap. After an impressive Week 1, Chicago started off this new week strong with an upset victory over Columbus. They then followed that victory up with 2 straight losses to the Platypus and the Bandits. Now, to be fair to the Sail, they were without Kyler for that Brooklyn loss. That doesn't quite explain how they got blown out by Portland however. While their win against the Clappers might have been due more to servers then their own play, I do still believe that the Sail have the talent necessary to be a threat this season. However, like I brought up with Portland, I do think they lack that consistency to consistently pick up key wins. With more time together maybe the Sail can fix some of the holes and turn themselves back into a top 2 threat, but as of right now I don't see it.
5. Brooklyn Bandits (4-2-0) (-)
Once again Brooklyn put together a solid week. Wins over Olympia and Chicago as their one loss, to Miami, was another close game. Derek had another great week, scoring 12 goals to add on to his 11 from last week. I really don't have much to say about the Bandits to be honest. They are beating the teams they have to beat while keeping games against the top 2 close. Their match against Portland this week will be important for both teams involved in that match. That's Brooklyn's best chance at proving they might have a shot at entering the top 2, otherwise they will probably stick around here for the rest of the season.
6. Richmond Rats (2-3-1) (-)
Richmond suffered another rough week as they remain in the 6th spot. A close loss to Portland, followed by a blowout from Miami. They were able to pick up a win against the Omegas, which is becoming more and more to be expected from the top 6 teams rather than something to cheer about. I keep waiting and waiting for something to "click" for the Rats and to see them play up to their full potential, hopefully for them that moment comes before it is too late.
7. Carolina Smokers (0-5-1) (-)
This past week for the Smokers was one filled with heartbreak. Close games against both the Clappers and the Vice where it looked like they could have won either one. Then to finish the week they suffered a gigantic loss to the Platypus leaving them winless once again. And, to top everything off, star player Kacktus left the team and it looks like his time here in SPL is done. The saving grace for Carolina is that there is still time to turn this around. If they can beat the Omegas and the Rats, the Smokers will put themselves in a good spot to make playoffs. However, trying to pull this off without Kacktus will not be easy.
8. Olympia Omegas (0-6-0) (-)
What is there to say about the Omegas? 3 huge losses this week, allowing double digit goals in each one. I hate to say it, but this is just not a pro level team. It was a fear I had when they decided to drop vorq and Kyler and ever since then it has proven itself as a reality. While this team finds itself in a similar spot as Carolina, I think the Omegas path out of the bottom will be MUCH more difficult. I would be more than happy to see them pull it off, but time is ticking.
Intermediate Division:
1. Yosemite Grizzlies (5-0-0) (+1)
Remaining undefeated with a win over the Outliers has led to the Grizzlies claiming the number 1 spot this week. The Grizzlies put together another solid week filled with close games, with 1 goal victories over both the Hammers and the Outliers. The Grizzlies are playing some solid Slapshot right now, but with how close these wins have been their position as number 1 isn't fully secure yet. However, if they can keep these performances up, they'll stay up here
2. Ontario Outliers (4-1-0) (-1)
I think the Outliers might finally be starting to feel that loss of Vorq a bit as they find themselves down to the number 2 spot this week. While they did pick up a blowout win against Denver, they suffered a tough 2-1 loss to the Grizzlies. For the second time this season we saw the Outliers try to rely on a more defensive approach to pick up the win over a fellow top team, however this time it did not work in their favor. That brings up my main worry for this squad, their offense is struggling to score. Sure they are getting huge goal amounts against some of the bottom feeders in the division, but against fellow top teams the Outliers are having trouble finding any offense. Luckily for them their defense has been incredible, allowing the fewest goals in the league thus far. I just worry that their current lack of offense might be their downfall.
3. Quebec Baguettes (3-2-0) (-)
A short but good week for Quebec as they remain number 3 on the list. Solid wins over both the Hammers and the Eagles as the Baguettes try to rebound from their losses last week. Evil was the star for the team this week, leading the team in goals in both matches. Duker has also started to find his home here in Quebec, as he picked up 5 goals of his own. It seems that the Bags have found their footing once again in IM, lets see if that can lead to some key victories down the line as they fight for promotion.
4. Pennsylvania Ball-Peen Hammers (2-3-0) (+1)
Despite not having the best Week 2 the Hammers are moving up to the 4th spot. Can't really blame them for having a rough week though, as they had matches against both the Bags and the Grizzlies. They were able to keep that Grizzlies game close, which proves to me that this team shouldn't be written out yet. They were also able to grab a 8-5 victory over the Hoots which is always nice to see, and despite the struggles they were able to get some good performances, like Cherries picking up 8 goals this week. While the Hammers might not find themselves in position for a promotion when this season ends, I still think the teams above them need to be careful or else they might suffer a season ruining upset.
5. Philippine Eagles (2-3-0) (+1)
Due to the Omelets struggles the Eagles are on the rise this week, moving up to number 5 on the list. The Eagles split their games this week, losing a tough one to the Bags while picking up a solid win over the Hoots. A pretty average performance across the board for all 3 members this week, with most of their goals coming in that Hoots victory. While this week might not have been the prettiest, I do think the Eagles are starting to put something together. This next week will be their true chance to prove where they stand in this division.
6. Denver Omelets (2-4-0) (-2)
Not sure what I can say about the Omelets this week other than yikes. 3 huge losses this week, though to be fair they were to the 3 top teams in the league. The main issue was the fact that all 3 of those losses were not even close and that in all 3 of them they allowed 10+ goals. Along with the stompings this week the Omelets also lost a solid player in Green. Luckily for the Omelets they have a bit of an easier week coming up, with rematches against the Hammers and the Eagles. We will see if Denver can bounce back or continue to sink.
7. Honolulu Hootenannys (0-5-0) (-)
Another week, another 3 losses for the Hoots as they stay in this last place spot. Once again the saving grace for Honolulu is they are managing to keep all these losses close, as the goal differential in all of them never got past 3 this week. Still, it is ever more clear that Jonesy is out of their element here in IM, which is not surprising since they are like level 7. If the Hoots picked up a real 3rd to replace him they could be a solid lineup, though I don't think that is what Luigi and FatLeft want. It at least seems like everyone is having a good time, which when you are winless through two weeks that is all you can ask for.
Games to watch:
Pro Division
Clappers vs Vice | 9/24 9:30PM EST - The matchup we look forward to every season, our two top teams battling it out for the first time here in Season 4
Smokers vs Omegas | 9/24 10:30PM EST - BATTLE AT THE BOTTOM! WHICH TEAM WILL FINALLY WIN A GAME?
Brooklyn vs Portland | 9/27 10:00PM EST - Two teams with the potential to steal a top 2 spot, but with a loss here that potential plummets, who comes out on top?
Intermediate Division
Eagles vs Outliers | TBD - The Eagles look to try and turn their season around with a rematch against one of IM's top teams
Grizzlies vs Baguettes | 9/24 10:00PM EST - With some more wins under their belt, the Baguettes look for revenge against the team that handed them their first loss on the season.