Slapshot Premier League

News Report
SPL S4 Pro/IM Power Rankings - Week 4
Author: M1NN, 09/30/20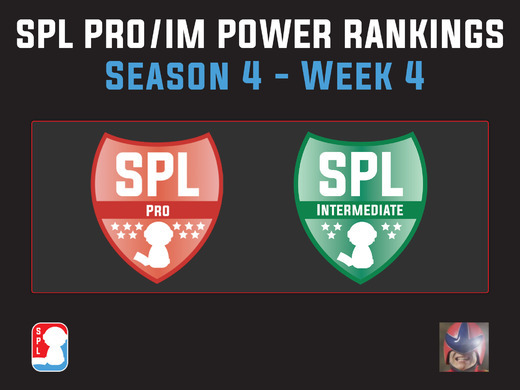 Pro Division:
1. Miami Vice (8-0-1) (+1)
Now you can certainly disagree with this move and I don't blame you, but after their performance this week I had to reward the Vice with the number 1 spot. While they picked up some nice wins over the Platypus and Omegas their most important win came against the Clappers in OT. Truthfully I still fully believe that the Clappers are a better team, however the Vice looked very solid in this win. I think one of the most impressive things about their win was how they only allowed the Clappers to get 5 shots on net. With a player like Timmy I would have expected a more "net-stack" type approach, instead they beat the Clappers at their own game. Time will tell whether this win was a fluke or not, but as of right now it gets them the number 1 spot.
2. Columbus Clappers (7-1-1) (-1)
For the first time in a long time the Clappers are not number 1 on this list. It wasn't a bad week for the Clappers, though they did pick up their second loss of the season. They were also brought to OT by the Bandits, but they were able to pick up the win against both them and the Platypus. One thing I noticed in these matches is that the Clappers are playing with a lot of confidence, maybe too much confidence. There were plenty of times where someone like Panarin would skate the puck out in front of his own net, and some of those ended up IN his net. I imagine those types of mistakes will go away come playoff time, so while Clappers are number 2 right now I could easily see them reclaim that top spot.
3. Brooklyn Bandits (6-2-1) (+2)
Brooklyn put together yet another solid week as they make the jump up to number 3 on the list. Derek once again got double digit goals this week, 13 of them as he helped his Bandits pick up key wins over Portland and Richmond. The Bandits were also able to bring the Clappers to OT, though they were unable to pull off the upset. The Bandits remind me of how the Surge were last season, a solid team that week in week out keeps picking up wins, on the back of solid defense and lots of goals from their 1. Now, considering where the Surge ended up last season that might not seem like the highest praise, but I believe in the Bandits ability to cause some noise once we get to the postseason.
4. Chicago Sail (6-2-1) (-)
Despite not-so-private drama and an inability to get their full starting 3 on the ice the Sail find themselves at number 4 once again this week. Now this week wasn't the greatest for the Sail. They started off well enough with an absolute blowout against the Rats. After that they went on to struggle for the rest of the week, giving the Omegas their first win and almost giving up another win to Carolina. And of course we have to talk about whatever the hell is happening with Kyler. SPL's most talented 13(?) year old has seemingly started butting heads with his teammates, mainly his captain Yuri. It's a bit disappointing to see to be honest, I had high hopes for Chicago this season. But I guess it's being proven that the Sail will always be the Sail, no matter who is on the roster.
5. Portland Platypus (4-5-0) (-2)
The Portland Platypus failed to find a win this past week, though they had a tough schedule. Their 3 losses came to the Vice, the Clappers, and the Bandits. While the losses to all 3 of these teams are pretty understandable, it was a little disappointing not to see them put up a bit more of a fight this week. While Portland has no real chance at earning a first round bye now, their spot in the playoffs is all but guaranteed at this point. I still believe in this team's ability to cause some noise come playoff time, but for that to happen either Slime or Walrus is going to have to step up to provide some much needed offensive support to Kush.
6. Carolina Smokers (2-5-2) (+1)
The Smokers have put themselves in a playoff spot after this week, and they have also moved up to number 6 in my rankings. With the loss of Kacktus I was worried that this team would slowly fall out of playoff contention, instead they came back and had one of their best weeks yet. Good wins over the Rats and Omegas as Donut filled in as the new starter. After the Omegas game, the Smokers made the call to swipe Spleen from the Omegas and give him a chance as the 4th member of the roster. Spleen made his debut in the 3rd period of the Sail match, scoring 2 goals and making a great assist on LemonBond's tying goal to help bring the game to OT and give the Smokers that all important 1 point loss.
7. Richmond Rats (2-6-1) (-1)
The Rats continue to fall as they find themselves in the 7th spot now in these rankings. A winless week for them, with losses to the Smokers, Sail, and Bandits. Once again this team just looks lost as their struggles continue. One silver lining for them is that Reno has been able to put up some decent stats in the 1 position, but that has not been nearly enough to make up for the rest of the team. They aren't out of this yet of course and they still have two more weeks to turn this season around, but at the moment this is not a playoff team.
8. Olympia Omegas (1-8-0) (-)
The Omegas got their first win! It may have been a OT win over a weakened Sail team but hey, a win is a win (if only the Twins could get one). That win was also the debut of the Omegas new 3rd, Green. With Spleen leaving for Carolina, the addition of Green is the Omegas last real chance to try and breathe some life back into this team. Like the Rats they aren't out of this season yet, but also like the Rats I really don't see this team making the playoffs. However, I'm down to be proven wrong.
Intermediate Division:
1. Yosemite Grizzlies (6-1-0) (-)
The Grizzlies main competition for this number 1 spot has disbanded, which kinda leaves them here by default. It's not like they had a bad week, they got a great win over the Baguettes once again, though they did suffer their first loss at the hands of the Eagles. Still, the Grizzlies continue to perform well against the best teams in the Division, and with the Outliers gone their number 1 spot is purely in the Grizzlies control. If they keep winning they will get that promotion series.
2. Quebec Baguettes (4-2-0) (+1)
With Ontario gone, that number 2 spot in the standings has really opened up and, as of right now, the Baguettes are my favorite to take it. Overall it was a pretty average week for Quebec, a solid win over the Hoots and another close loss to the Grizzlies. While the Grizzlies continue to give Quebec trouble they have proven that they can handle the rest of their schedule quite easily. As long as they keep their heads straight and don't allow themselves to fall victim to any upsets the Baguettes should be looking at a chance to promote to Pro to end this season.
3. Philippine Eagles (4-2-0) (+2)
With an upset over the Grizzlies the Eagles are on the rise this week, all the way up to my 3rd spot. Luckily for us the disbanding of Ontario allows me to ignore the loss we suffered to them this week, so instead I can say that the Eagles went undefeated in week 3 with wins over the Omelets and the Grizzlies! The Grizzlies match was a close one, mostly won through an excellent defensive performance from Rapier. Obviously the lack of offense is a bit worrisome, especially since you can't rely on defence like that forever, however I believe the Eagles have proven themselves to be a bit of a threat. We will see if they can keep it up and potentially steal that 2nd place spot away.
4. Pennsylvania Ball-Peen Hammers (3-3-0) (-)
The Hammers only got to have one match officially this week, a simple 7-2 victory over Denver. Sadly because of their incredibly short week there isn't much to report on. One thing to note is that with Ontario dropping the Hammers now have a chance to sneak away with that 2nd place spot, though it is going to take a bit of luck. Still, they have beaten the Eagles before and have proven they can hang tight with the Grizzlies, so we will see if they can put together a late season push.
5. Denver Omelets (2-5-0) (+1)
Another tough week for Balucha's squad as I think, at this point, they are officially out of the hunt for promotion. A close loss to the Eagles and a larger loss to the Hammers leaves the Omelets near the bottom of the standings. Now, luckily for them, with as small as IM is right now they don't need to worry about demotion! Still, I imagine basically playing for nothing these next two weeks is not going to do well for morale. Hopefully they can find some fun in trying to play spoiler for one of our top teams.
6. Honolulu Hootenannys (0-6-0) (+1)
The Hoots are still looking for their first win as week 3 draws to a close but hey, they can't get demoted anymore! Not really much else for me to say here besides that, much like Denver they are out of the promotion hunt so now their main goal is to try and ruin someone else's season. They also technically moved up these rankings for the first time because of Ontario dropping so good for them!
Games to watch:
Pro Division
Sail vs Clappers | 10/1 9:00PM EST - The first time these two met the Sail pulled off the upset of the season, can they do it again?
Bandits vs Vice | 10/1 10:00PM EST - If the Bandits want a top 2 spot come playoffs they need a win here.
Smokers vs Platypus | 10/1 10:30PM EST - The Smokers look to shore up their playoff spot as the Platypus look to rebound after a tough week 3
Intermediate Division
Baguettes vs Ball-Peen Hammers | 10/01 10:00PM EST
Eagles vs Ball-Peen Hammers | 10/03 10:00PM EST - If they Hammers want a chance at Pro they need to win these two games, can they get it done this week?