Slapshot Premier League

News Report
SPL S4 Pro/IM Power Rankings - Week 5
Author: M1NN, 10/07/20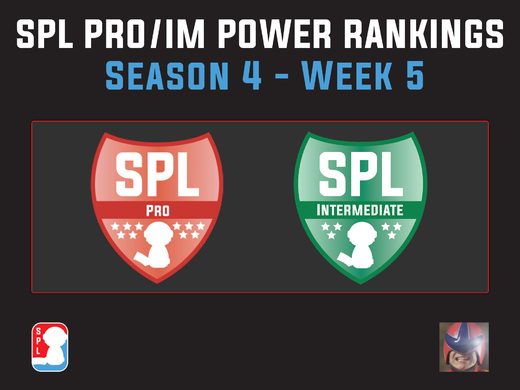 Pro Division:
1. Chicago Sail (8-1-1) (+3)
The Sail has been the hardest team to rank for me all season long, and they don't make it any easier as for my last rankings they have jumped all the way up to number 1. Now after last week and the internal turmoil that they were going through I didn't think the Sail would be able to repeat their performances against the Vice and the Clappers, they proved me dead wrong on that. The Sail have some of the strangest losses any team this high up has gotten this season, but being 4-0 against two of the top teams in the division makes a pretty clear case for being in this 1st spot. As long as this team can keep Kyler on the ice and keep tempers down they have a serious chance of being our first non-Clappers champion.
2. Columbus Clappers (7-2-1) (-)
Not the prettiest week for the Clappers as they maintain their 2nd place spot in these standings. Only one loss, coming against the sail, but they were also held close by both the Rats and the Smokers. Part of me believes that this is simply the Clappers not taking the regular season seriously and that once we get to playoffs they will once again wipe the floor with those in their way. However, the lack of dominance is something I haven't seen from the Clappers in a while, which is what leads me to keeping them here in 2nd place. They're still a favorite to make finals don't get me wrong, but their chances of winning aren't as guaranteed in my eyes as they usually are.
3. Brooklyn Bandits (8-2-1) (-)
Brooklyn just continues to impress me as they remain in the 3rd spot this week. An undefeated week, though they did have some easier opponents in the Omegas and the Smokers. What was certainly not an easy opponent was the Vice, whom the Bandits beat 5-2 behind 4 goals from their main man Derek. I said this while casting that match and I will say it again here, Derek is my MVP. He has reached a whole new high this season in terms of scoring ability, currently leading in goals scored with 42, ten more than the runner-up Occelloth (though he has played one more game at this point). The way Derek has been able to score goals against teams like the Vice and Clappers this season makes me curious as to what damage this team can do come playoffs. The Bandits have an incredibly important match against the Sail tonight, that might provide some answers on what we can expect of them come playoff time.
4. Miami Vice (7-2-1) (-3)
A very rough week for the Vice finds them crashing down to 4th in the standings. Losses to the Bandits and the Sail and just barely picking up an OT win over the Rats (which was apparently one of the best games this season, sad we missed it :( ). Not really the type of week you want to see with the playoffs on the horizon. The Vice do have a chance at a bit of redemption though, as they can sweep the season series against the Clappers tonight. A second win against the Clappers would certainly make things interesting, but in their current state I don't know if they will be able to pull it off
5. Carolina Smokers (2-5-3) (+1)
Only two games for the Smokers this week, both of them being one goal losses. The first coming against the Bandits in OT, the second coming against the Clappers. Now, losses hurt, but being able to keep 2 of the top 3 teams within one goal is a pretty decent sign in my opinion. Not to mention they were also able to take the Sail to overtime twice. At this point I do believe that the Smokers are better than their record. Funnily enough they remind me a lot of the Sail from last season. A team that had a bad record on paper, but once you looked further into it you saw how many games could have easily gone the other way. While this team might not be able to make the same type of run that Sail team did, teams should make sure not to underestimate them come playoff time.
6. Olympia Omegas (2-8-0) (+2)
For the Omegas to make the playoffs this season it would take quite the miracle, however I do still feel they deserve the bump up to number 6 this week. Hard to deny it when they beat the one team below them, the Rats. The late season addition of Green has seemingly worked out well for this squad, as they now have gotten 2 wins with him in the starting lineup. Once again, it's a bit too little too late it seems, as the road to playoffs is not an easy one for them. Since the Omegas would almost for sure lose the tiebreaker to Richmond they have to hope for a win against Carolina and to somehow get points off the Clappers. If they can pull it off I'll lose my mind, but I don't see it happening.
7. Richmond Rats (2-7-2) (-)
With the loss of Portland the Richmond Rats are most likely going to come away with that last playoff spot, though it's hard to say they have earned it. To be fair to them this last week was one of their better ones as of late, with an OT loss to the Vice and a close loss to the Clappers. The real tough blow was that loss to the Omegas. Luckily for them, that OTL from Miami gives them enough of an edge over Olympia that they should be able to coast into the playoffs. Once they get there though, I don't see the Rats being able to do much of anything. I have been proven wrong on predictions like this in the past however, so don't count them out just yet.
In memoriam: Portland Platypus
With this being our last season in Slap 1 it's only fitting that one of our pro teams makes history by disbanding. The "honor" of being the first Pro team ever to disband during an SPL season now belongs to the Portland Platypus. I truthfully had high hopes for this squad coming into this season, so it's a bit rough to see them quit out like this, though I fully understand it. My main hope is that we see them come back once Rebound starts up!
Intermediate Division:
1. Yosemite Grizzlies (7-1-0) (-)
Pretty simple and easy week for the Grizzlies, a quick win over the Omelets and that was it! Because of that there really isn't any reason to move them out of this number 1 spot, especially considering the losses Quebec and Philippine took this week. Also with those losses the Grizzlies are almost guaranteed a Pro spot at this point. Now they could still lose 1st place, but that would require them to lose both their games this week. We'll have to wait and see but I have a feeling the Grizzlies will end up being our first place team and earning that auto-promotion to Pro.
2. Pennsylvania Ball-Peen Hammers (6-3-0) (+1)
Well I said last week that the Hammers would have to win 2 tough matches to have a chance at Pro promotion and they did just that. With huge wins over the Baguettes and the Eagles, the Hammers have put themselves right in the hunt for promotion. However, at this point they would still lose the tiebreaker to Quebec so they not only have to take a game off of the Grizzlies they also need to hope for Quebec to suffer an upset from either Honolulu or Philippine. While Pro promotion might still be out of the Hammers reach, with some good games and a bit of luck they could make the leap.
3. Quebec Baguettes (5-3-0) (-1)
A loss to the Hammers was certainly not what the Baguettes were looking for as their Pro promotion status is now a bit more up in the air heading into the final week. While they still hold a tiebreaker over the Hammers in terms of Goal Differential, one more loss could spell disaster for them. That puts a lot of importance on their game against the Eagles this week, though they better make sure not to overlook the Hoots either. If the Baguettes can hold it together and pick up these last 2 wins they are in, let's see if they can pull it off.

4. Philippine Eagles (5-3-0) (-1)
A win against the Hammers last week could have had the Eagles sitting pretty as the final week began, instead that loss has them on the outside looking in. It also doesn't help that their last two opponents are Quebec and Yosemite, most likely the two teams moving on for a chance to get to Pro. Even if the Eagles do manage to win both their games this week they still have to hope for the Hammers to fall to the Grizzlies, which while possible is not a guarantee considering how hot Pennsylvania is at the moment. The Eagles have outperformed some expectations for sure, but earning a top 2 spot might prove to be just a bit too difficult.
5. Denver Omelets (2-8-0) (-)
The Omelets season is officially done as they end it with losses to Quebec, Yosemite, and Honolulu. Not a great ending to an already difficult season for Denver. One saving grace is they have no fear of demotion! It would have been nice to see Denver find some sort of high note to close the season out on, but I guess it was just not to be. Hopefully we will see these guys back in some capacity come Rebound.
6. Honolulu Hootenannys (1-8-0) (-)
THE HOOTS GOT A WIN! While this season has certainly not been kind to the returning duo, it's nice to see FatLeft and Luigi stick out and finally pick up a win this season. With only one game left the Hoots have a chance to play a bit of spoiler this week. They could potentially ruin the Baguettes chances at Pro with an upset victory. Personally I don't see it happening but that shouldn't stop the Hoots from giving it their all I hope.
Games to watch:
Pro Division
Bandits vs Sail | 10/7 9:00PM EST - A potential future playoff matchup right here, who will prove their dominance to end the regular season?
Vice vs Clappers | 10/7 9:30PM EST - Two teams that looked like guaranteed first round byes are now on the outside looking in, who can keep their top 2 finish dreams alive?
Intermediate Division
Ball-Peen Hammers vs Grizzlies | 10/8 9:00PM EST - Hammers need this win to keep their Pro promotion dreams alive, can they do it?
Eagles vs Baguettes | 10/11 9:30PM EST - A win could put either of these teams in a good spot to make Pro, a loss could kill their season, who will come out on top?