Slapshot Premier League

News Report
Taking a Look at SPL Season 3's Open Division
Author: Blades, 06/30/20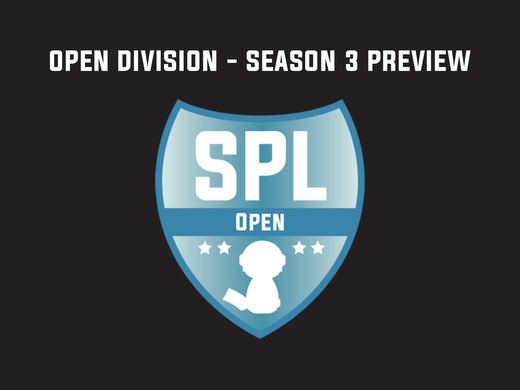 Looking back...
Before we can begin to dissect what has turned out to be an incredibly active offseason, we must first take a look back at the end of last season and the Intermediate Promotional Tournament: a 4 team, round-robin and best of three series to determine which two teams advanced into Intermediate play and which two teams would have to stay behind and battle it out again in Open next season. With three teams coming from Open and one coming from Intermediate, the two spots up for bid seemed more available than ever.
The Oklahoma Exotics, the New Jersey Minutemen and the Tokyo Ghoulz from Open joined the Winnipeg Wrath from the Intermediate Division in round robin play on June 15th in what would turn out to be an exciting postseason. The tournament was quite simple: In round robin play, each team would play each other just one time. The team with the best record automatically advanced into the Intermediate Division, the team with the worst record was relegated into Open and their season would come to a close. Lastly, the middle two teams would battle it out in a best of three series to determine the second and final promotion spot into the Intermediate Division. Quite high stakes for just three games - the battle was on.
With the round robin play finishing just a few short days later, three teams stood even with one another - all of which registering a 2-1-0 record (W-L-OTL). The only team to not register a win and get relegated from the tournament was the Winnipeg Wrath. Their attempt to defend their spot in Intermediate fell short, as they lost all three games by a margin of 3 or more goals. Thus, leaving the Exotics, Minutemen and Ghoulz still in the tournament. Ultimately, the round-robin tie breaker went to the Exotics and they received the 1st place promotion into the Intermediate Division. The two teams left standing now had to battle it out in a best of three series to determine the final Champion.
With strengths on both sides, the Ghoulz (6-6 regular season) and the Minutemen (10-2 regular season) were determined to conquer the other using their unique strategies that have helped them conquer the majority of their seasons. With the regular season series going to the Minutemen (2-0) many thought the playoff series would be much like previous matchups. However, Tokyo brought their best game and shocked the Minutemen in a 2-game sweep solidifying their spot in Intermediate next season. The Exotics and The Ghoulz played hard all season and now will take their talents to the next division where their competitors will surely attempt to do to them what they did to the Wrath.
Looking ahead..
With one week left in the offseason the Open Division currently sits with 12* teams: 3 returning from Open, 1 team relegated from Intermediate play, and 8 other teams composed of returning skaters and a handful of new rookies. I think it would be fair to say that a majority of the teams in Open have great potential to reach the promotional tournament at the end of this season. With the departure of the Hebron Toothless Warriors to the Intermediate Division in recent days, thanks to the addition of pro Dyno Mike, the Open Division is seemingly more open than ever before as these 12 teams fight to make their mark in the SPL history books.
Season three registration began on June 23rd. In the days leading up, there was constant chatter of players leaving, teams disbanding and it seemed that there would be quite an influx of new teams headed into Open for season 3 - and there was no shortage of entertainment on the day. The following list of teams is current as of June 29th, 2020 and they are only listed alphabetically. Luckily I was able to receive some input from the SPL Admin and Caster M1NN, who rightfully was awarded the "SPL Award" which is given to the Top Community Member of the season. Thanks M1NN for all your hard work!
*Note: The following rosters are listed alphabetically. All thoughts are strictly my own and do not represent the viewpoints of anyone else nor the League as a whole.
Special thanks to M1NN for his team outlooks and pre-season rankings which can be found below with each team!
Bolivia Bitcoin Bandits [BCB]
Tee [C]
Flaccid_Lettuce
Kiahn.
Qjared
Last Season (0-0)
The Bandits have the potential to be an outstanding team this year. Qjared, having the most experience among the four, will most certainly be the quarterback for this team. TEE, team Captain, has also been around and will surely have to help shape the Bandits into a winning team. Kiahn seems to be more of a role player and can easily find success with someone like qjared sending the puck his way. Lettuce I have not seen before and cannot comment on. If the chemistry is right, this team can easily be among the best.
When asked for comment, Tee had this to say about his team:
"As a team we are feeling ready for that first puck drop. We are feeling excited to get started and feel like we have a good shot at advancing to intermediate!"
Tee, team Captain (6.28.2020)
M1NN's Take: "The Bandits have a few names I recognize and a few I don't. Qjared has had plenty of time here in SPL and has proven to be a solid asset, especially last season during his time with the Goons. TEE is a player I have seen around in pubs for awhile, mostly solid but I don't remember him standing out from the rest of the player base. The Bandits, like any team with unknown players, are a bit hard to gauge. I can see them either contending for a top 2 spot or ending up near the bottom of the division."
M1NN's Preseason Rank: 6th
Buffalo Golden Spuds [BGS]
Wackypotatoguy [C]
Double Sourcow
SimpMurray
Last Season (6th place regular season (Out of 7); 4-8)
The Spuds had a rather good season despite going 4-8 in season 2. With a few notable wins last season, one of which coming against the Ghoulz, Buffalo has the potential to be among the top half of teams this season. The sheer experience of their team already puts them ahead of some of the newer teams in the division. Offensively, their team is very well balanced. With all three skaters playing in each game last season, they all finished within just 8 points of each other (32-24-24) with Sourcow taking the lead at 32 points (23G, 9A) and a team leading 42 shots and 40 saves.
When asked for comment, Wacky had this to say about his team:
"Golden Spuds are feeling good after season 2. Looking at some of the rosters
have us hopeful for season 3 - a lot of new names in the mix. Having someone with the most saves in open division last season (DoubleSourcow) is a huge plus. We just need to be able to convert those critical saves into scoring opportunities. Hoping to have fun, play our game, and get a chance to be promoted to intermediate."
Wackypotatoguy, team Captain (6.29.2020)

M1NN's Take: "The Golden Spuds had a decent first season, especially for players who were completely new to the competitive format. While they might not have the most skill on paper, the chemistry they have from playing together for so long plus a season of SPL experience gives them an edge that I think they can use to take control of open division."
M1NN's Preseason Rank: 2nd
Canada Camels [ N/A ]
PooBallz [C]
Endrick
Kuznetzoffzky
Last Season: (0-0)
The Camels are a new team but these players are not rookies. While plenty of experience between the three of them in public play, there is not much to speak of with them in League play. Having been on teams in the past, the three of these are most certainly a top tier team in the division and are not to be taken lightly. Being just 1 of 3 other teams using only a 3-man roster expect the three of these to be putting up solid numbers in the league this season.
When asked for comment, PooBallz had this to say about his team:
"The Canada Camels are hyped af for the new season. We can't wait to get on the ice. We hungry!"
M1NN's Take: "Another new squad, made up of 3 players who I have not seen in SPL but have seen plenty of in pubs. All 3 of these players have a solid amount of slapshot experience, especially Kuznetzoffzky. Of course, what is done in public matches doesn't always transfer to league play, but if the Camels can build some chemistry with each other then they might have a shot at promotion this season."
M1NN's Preseason Rank: 5th
Chico Chimps [CMP]
Wendy's Cashier [C]
Cameron
Capalot
Exotic
Last Season (0-0)
There will be no monkeying around this season for the Chimps. Wendy's Cashier and Capalot, coming from last season's last place team the San Francisco Hotpockets, are looking for a strong rebound this season as they attempt to lead Cameron and Exotic to the postseason. With a lot of strong competition in the division this season they will definitely need to be playing better as a team than San Fran did or their season may mirror last year's woes. They are fully capable of keeping themselves in the mix but that outcome will mainly fall on the shoulders of the lovely Cashier taking your orders and serving you losses.
When asked for comment, Wendy's had this to say about his team:
"Chimps are feeling very confident this season and we hope to make it to a top 3 spot in open division."
Wendy's Cashier, team Captain (6.28.2020)
M1NN's Take: "2/4th's of the San Francisco Hotpockets, Open's last place team from Season 2, have decided to team up with 2 rookies for Season 3. San Francisco's struggles last season make it hard for me to put too much faith into this squad, however maybe that experience will help our former Hotpocket's climb out of the bottom of the standings this season. Or hopefully at least win a game that isn't via forfeit."
M1NN's Preseason Rank: 8th
Detroit Danglers [DTD]
Yung Crisp [C]
NanitheFuq888
Siko
YogiBear
Last Season (0-0)
The Detroit Danglers are completely new to the league. Unfortunately I have not had the opportunity to play with them, and their potential is still to be determined. However, I was able to reach out to Crisp for comment on how his team has been doing so far this offseason:

"We are doing pretty good! We've been practicing together for the last few weeks and are starting to get a good handle on our game. It has been a lot of fun."
Yung Crisp, team Captain (6.28.2020)
M1NN's Take: "This team is filled with players who I do not recognize in the slightest. Didn't feel fair to try and rate them so I'm just going to leave them here. Good luck to them!"
Michigan Mallards [MAL]
Blades [C]
Mud
Jangatang
Bonkerz
Mike Jones
Last Season: (0-0)
While the Mallards are also a completely new team to the league, they do have one league-familiar player in their Captain, Blades. After joining season 2 with just over a week left before roster lock, Blades joined the Minutemen in Open division as their fourth player and filled their roster at 5. Blades played a limited role with New Jersey last year but was a solid role player and accompanied them on their run in the promotional tournament. With a loss in the tournament, Blades joins four of his friends as they fly together into season 3.
When asked for comment, Blades had this to say about his team:
"Knowing a vast majority of the competition this season I know we have our work
cut out for us. There is no shortage of excitement here with the Mallards and we look forward to proving ourselves this season against some of the league's best. Like Gordon Bombay once said,'When everyone said it can't be done - Ducks Fly Together!'"
Blades, team Captain (6.29.2020)
M1NN's Take: "Blade's new team is him and 4 names I have never seen before. Blades is a solid enough player that I feel confident putting the Mallards here, but it will take a couple of games from the new guys to understand where this team should really be."
M1NN's Preseason Rank: 7th
Minnesota Mild [MNM]
Ginger [C]
Boowi
Toptittie
ItzInferno
Last Season: (0-0)
The newcomers have not been tested yet and I cannot accurately depict how their season will unfold. I was fortunate enough to take some time to speak with their team recently. When asked about how things have been shaping up this offseason, Ginger had this to say about his team:
"It's our first season and we're excited to just have some competitive fun. The community is friendly and inviting, and we're enjoying the tight community. We've just begun scrimming other teams, as well."
Ginger, team Captain (6.28.2020)
M1NN's Take: "This team is filled with players who I do not recognize in the slightest. Didn't feel fair to try and rate them so I'm just going to leave them here. Good luck to them!"
New Jersey Minutemen [NJM]
Johnboi [C]
Baumz
MNSOwinner1
Tupac
Grayson (?)
Last Season: (2nd place regular season (Out of 7); 10-2)
With the offseason additions of MNSOWinner and Tupac, the Minutemen have clearly built a roster with the clear intent of letting nothing stop them. After a disappointing postseason, the Minutemen have completely shaken up their roster. Last season's trade-deadline free agent addition of Baumz has proven monumental, as Baumz is a serious offensive threat. Combining that with Johnboi's solid team play it is hard to find an opposing lineup to contain that. MNSOwinner is also an incredibly talented player and will dramatically increase the Minutemen's offensive capabilities. Losing Blades to the Mallards might have shaken up the bench just a tad, but losing Shieldz to the Intermediate Division will surely hurt them most. However, the loss on the backend was replaced by firepower on the front end. The dramatic shift in playstyle might take opponents by surprise. Grayson is still questionable, as his future with the team has not publicly been announced.
When asked for comment on the Minutemen, Johnboi had this to say about his team:
"It has been hard to fill Shieldz's starting spot, simply because we're an Open Division team. However, I think we can work together as a solid team, become a top team, hold down the fort and possibly make it into Intermediate next season."
Johnboi, team Captain (6.28.2020)
M1NN's Take: "The Minutemen left last season as one of Open's best teams but were unable to come away with a promotion after an incredible late season push from the Ghoulz. While they still have Baumz and Johnboi they have lost Shieldz and Blades which leaves them without a solid 3rd. While they are still the top team in open in my eyes they are going to need to find someone to help fill that Shieldz size void or else they can find themselves in some trouble."
*Note: M1NN's comments written pre-MNSO and Tupac acquisition
M1NN's Preseason Rank: 1st


Pennsylvania Ball-Peen Hammers [BPH]
Cherries B [C]
HZR
Myach
Yurtle
Last Season (0-0)
There is no doubt in my mind that this team will be hard to beat. With former Exotics making a name for themselves in this new team, the Hammers are easily a top-3 team right from the start, if not already the #1. Much of their roster is known across the league and seen frequently in competitive formats. Although their team name is a phallic joke, this team will surely be all business come regular season. Be sure to wear all standard hockey protection when you match with this bunch.
When asked for comment, Cherries had this to say about his team:
"We gon' be nice, my guy."
Cherries B, team Captain (6.29.2020)
M1NN's Take: "The Hammers are the strongest new team we have in Open division this season. To Exotics bench riders join a couple of SPL rookies to form a potentially dangerous roster that I can see finding their way into promotion contention"
M1NN's Preseason Rank: 3rd
Shanghai Ghosts [TSG]
Orbit [C]
Hobo Jobo
MeistroMatt
Shallisa
SuperKai64
Last Season (0-0)
A rebranded Kyoto Ghosts team is back with more than just a new name. The Ghosts are composed of some relatively new faces to the league. While still being seen around the league in some competitive formats, none have made their official mark in the League. However, that is soon to change as this team of 5 looks to take the league by surprise. The potential for this team is limited only by themselves. There is plenty of talent here to make them a top-half competitor and I think the first quarter of their season will truly determine their ability and how the remainder of their season will look.
When asked for comment, Orbit had this to say about his team:
"I'm very excited to be in the SPL and I have complete confidence in my team."
Orbit, team Captain (6.28.2020)
M1NN's Take: "This team is filled with players who I do not recognize in the slightest. Didn't feel fair to try and rate them so I'm just going to leave them here. Good luck to them!"
Toronto Titans [TTT]
STN [C]
Megaman
Ellipsis
Last Season (0-0)
The Titans are our final team composed of just 3 skaters. All rookies to the league, this Canadian team has excellent potential to be a top contender. Having personally played against them many times in public play they are a formidable force with high chemistry. Although fresh to the competitive side of things I do not see the transition hindering their ability to compete with the best. Be on the lookout for the Titans as they are not a new team to underestimate.
When asked about his team, stn had this to say:
"Looking forward to seeing how we match up against other pre-mades"
Stn, team Captain (6.29.2020)

M1NN's Take: "This team is filled with players who I do not recognize in the slightest. Didn't feel fair to try and rate them so I'm just going to leave them here. Good luck to them!"
Winnipeg Wrath [WW]
Pino [C]
Void
Iceman
Ohg00d
Last Season (8th place regular season (Out of 8); 1-13)
The Wrath have unfortunately struggled since the beginning of SPL. With just a handful of total wins as a franchise they are looking to take advantage of the wide range of new teams in Open this season. This four man roster, if it holds true through the offseason, could potentially bring them home their best season yet. It would be an extremely huge push in the right direction if this roster can work things out and stay strong.
When asked for comment on the recent roster changes, Pino had this to say:
"We need to get back into Intermediate play. We could definitely use some help and we're hoping Iceman can fill that role."
I also asked Pino about the Wrath franchise. Having historically been a let down, the Wrath have struggled to keep up with surrounding teams. When asked how he plans on making the right changes this season, Pino had this to say:
"We really did not have a great team in season one of the SPL, largely because of myself. It was not until Fed, Ocho and Maki came around - but then we got our only win taken away because they disbanded. Last year we had absolutely no chemistry on offense. But again, we're hoping we can change that this year and with that, hoping that Iceman is in the right spots this year to bury the puck for us."
Pino, team Captain (6.29.2020)
M1NN's Take: "After a rough season in Intermediate the Winnipeg Wrath find themselves in Open once again, this time with a much more even playing field. The Wrath are a team who have historically struggled wherever they play, however I think where Open is currently could allow the Wrath to make some noise this season. I also think the addition of Iceman could quietly be one of the best moves made by an Open team this offseason."
M1NN's Preseason Rank: 4th

Extras:
*Kalamazoo Bamboo Biters registers for Open Division!
[6.29.2020 at 4.39pm EST]
Roster:
Frosty2200 [C]
Monkries
Peach Tundra
Hudx
No previous SPL experience -
Comment from Frosty2200, team Captain (6.29.2020):
"Well Blades, we're a team of 4 and we want it to be known that biters stick together; through thick and thin. All of us come from a Rocket League competitive structure called RSC, so we all know how to bite from beneath people. Look for us to really work our way up the rungs as we start to figure things out."
Minnesota Mild add ItzInferno to their roster
[6.29.2020 at 6.07pm EST]
No team comment